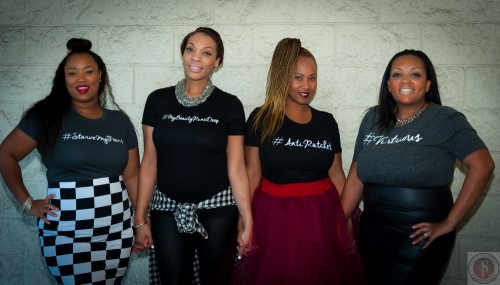 (San Diego, CA) On Monday, April 27, 2015, a movement to unite women across the globe began here in San Diego. 4linkedhearts LLC was founded by four family members who are on a mission to break down the negative barriers between women that have existed for decades upon decades. "Our goal is to encourage positive relationships between women. We hope to do that by linking them together through personal stories. Our apparel along with social media will be the tool we use to connect women. I believe, once we begin to talk with each other, then we realize how much we have in common. We truly have the same struggles." said co-founder, Javon Mitchell.
The ladies launched their business here in San Diego with a private soft launch for friends and family members. Bourre Southern Bistro hosted the event and served tasty appetizers including cream cheese stuffed mushrooms, smoked salmon crostinis, tomato soup and grilled cheese shooters. Many guests enjoyed mingling during the evening while listening to powerful testimonies from local businesswomen, Tatiana Castro (Brook Journey Inc.) and Phoenix White (Author, Redefining Strong). "I am always in support of women doing something positive in our community. What 4linkedhearts stands for is unity, positivity and empowerment for women. We need that. I stand by that." shared Castro.
4linkedhearts provides their customers a fashionable way to express their stories with creative yet simple hashtag t-shirts. The phrases printed on the tees encompass a woman's journey and express the plight of the woman concerning family, business, health, beauty, social awareness and self-love. "We want our clothing to be the conversation starter. Instead of a woman judging a book by its cover, now we can see the cover (via our t-shirt) and use that as a tool to begin dialogue. Talking will create the connection and ultimately lead to the unity and healing that we all crave." shared co-founder, Rashala McPherson.
The charismatic hostess, Brandee J of Manik Magazine, entertained the guests and surprised a few lucky winners with raffle prizes. "I was excited to come to be apart of the empowerment movement. Winning a massage was the cherry on top!" shared winner, Jannell Jackson, who purchased a shirt that read, #PrettyOnPurpose. Guests were able to purchase various t-shirts and custom made jewelry at reasonable price points during the event.The evening wrapped up with a tear-jerking Thank You from the founders as they conveyed their gratitude toward their supporters.
"We hope this movement catches fire and spreads across the globe. When you turn on tv, it isn't hard to find a negative image of a woman. We are here to change that locally and globally through social media and other media platforms. We are missing that togetherness we once shared. It's time to get that back." explained co-founder, Ranada Howell.
4linkedhearts would like to acknowledge the sponsor for the event, The Real Women Talk Show. To learn more about 4linkedhearts, follow them on social media @4linkedhearts and www.4linkedhearts.com.