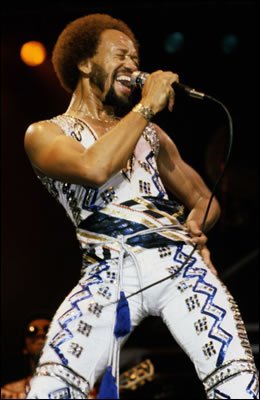 Another legend has left us too soon.  Maurice White of Earth Wind & Fire died today at his home in Los Angeles.
"My brother, hero and best friend Maurice White passed away peacefully last night in his sleep," Verdine White, also a member of the band, told The Associated Press on Thursday. "While the world has lost another great musician and legend, our family asks that our privacy is respected as we start what will be a very difficult and life changing transition in our lives. Thank you for your prayers and well wishes."
Singer, songwriter, producer and drummer Maurice "Reese" White was born on December 19, 1941, in Memphis, Tennessee. After studying at the Chicago Conservatory of Music, he found work in 1963 as a session drummer for Chess Records. Four years later, he began playing with the Ramsey Lewis Trio. In 1969, he formed his own band in Chicago, which was called the Salty Peppers.
After a move to Los Angeles, White renamed his band as Earth, Wind & Fire (the name was a nod to his astrological chart, which had no water signs). He also invited his younger brother, bassist Verdine, to join the group.
White, arguably one of the greatest musicians of all time whose nine-piece horn-driven band sold more than 90 million albums and made hits like "That's The Way of the World," "September," "Shining Star" "Reasons," and "Boogie Wonderland," and a string of timeless hits.  Earth, Wind & Fire, featured the two White brothers, singer Philip Bailey, Ralph Johnson Al McKay and the distinctive horn section, were inducted into the Rock and Roll Hall of Fame in 2000.
White, who was 74, suffered from Parkinson's Disease and had retreated from the public even as the band he founded kept performing.
Maurice White will truly be missed, but his music lives on. Rest in Power and in Peace.