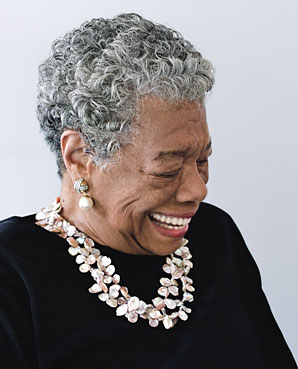 (Winston Salem, NC) One one the most remarkable and prolific voices of our time has passed away this morning at 86, Dr. Maya Angelou.
Maya Angelou, born on April 4, 1928 in St. Louis, Missouri, was  a modern day Renaissance woman who survived the harshest of childhoods went on to become a force on stage, screen, a novelist, poet and a professor.
She passed away in her home in Winston Salem North Carolina. Her death was also confirmed in a statement issued by Wake Forest University, where she had served as a professor of American Studies since 1982.
The childhood victim of rape wrote a million-selling memoir, befriended Malcolm X, Nelson Mandela and the Rev. Martin Luther King, Jr., and performed on stages around the world.
An actress, singer and dancer in the 1950s and 1960s, she broke through as an author in 1970 with "I Know Why the Caged Bird Sings," which became standard (and occasionally censored) reading, and was the first of a multipart autobiography that continued through the decades. In 1993, she was a sensation reading her cautiously hopeful "On the Pulse of the Morning" at former President Bill Clinton's first inauguration. Her confident performance overjoyed Clinton making the poem a best-seller, and critically acclaimed favorite. For former President George W. Bush, she read another poem, "Amazing Peace," at the 2005 Christmas tree lighting ceremony at the White House.
She was a mentor to Oprah Winfrey, whom she befriended when Oprah was still a local television reporter, and often appeared on her friend's talk show program. She mastered several languages and published not just poetry, but advice books, cookbooks and children's stories. She wrote music, plays and screenplays, received an Emmy nomination for her acting in "Roots," and never lost her passion for dance, the art she considered closest to poetry.
Angelou was born Marguerite Johnson in St. Louis and raised in Stamps, Ark., and San Francisco, moving back and forth between her parents and her grandmother. She was smart and fresh to the point of danger, moved away by her family to California after sassing a white store clerk in Arkansas. Other times, she didn't speak at all: At age 7, she was raped by her mother's boyfriend and didn't speak for years. She learned by reading, and listening.
At age 9, she was writing poetry. By 17, she was a single mother. In her early 20s, she danced at a strip joint, ran a brothel, was married (to Enistasious Tosh Angelos, her first of three husbands) and then divorced. By her mid-20s, she was performing at the Purple Onion in San Francisco, where she shared billing with another future star, Phyllis Diller. She spent a few days with Billie Holiday, who was kind enough to sing a lullaby to Angelou's son Guy, surly enough to heckle her off the stage and astute enough to tell her: "You're going to be famous. But it won't be for singing."
After renaming herself Maya Angelou for the stage ("Maya" was a childhood nickname), she toured in "Porgy and Bess" and Jean Genet's "The Blacks" and danced with Alvin Ailey. She worked as a coordinator for the Southern Christian Leadership Council, and lived for years in Egypt and Ghana, where she met Malcolm X and remained close to him until his assassination, in 1965. Three years later, she was helping King organize the Poor People's March in Memphis, Tenn., where the civil rights leader was slain on Angelou's 40th birthday.
Angelou was little known outside the theatrical community until "I Know Why the Caged Bird Sings," which might not have happened if James Baldwin hadn't persuaded Angelou, still grieving over King's death, to attend a party at Jules Feiffer's house. Feiffer was so taken by Angelou that he mentioned her to Random House editor Bob Loomis, who persuaded her to write a book.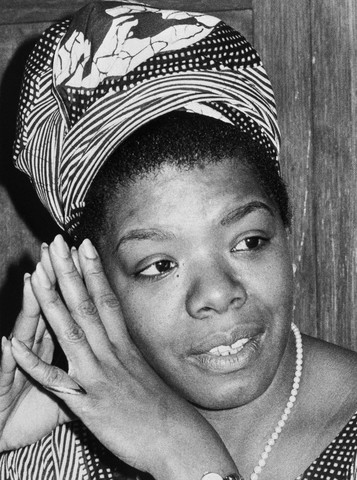 Angelou's memoir was occasionally attacked, for seemingly opposite reasons. In a 1999 essay in Harper's, author Francine Prose criticized "Caged Bird" as "manipulative" melodrama. Meanwhile, Angelou's passages about her rape and teen pregnancy have made it a perennial on the American Library Association's list of works that draw complaints from parents and educators.
Angelou appeared on several TV programs, notably the groundbreaking 1977 miniseries "Roots." She was nominated for a Tony Award in 1973 for her appearance in the play "Look Away." She directed the film "Down in the Delta," about a drug-wrecked woman who returns to the home of her ancestors in the Mississippi Delta. She won three Grammys for her spoken-word albums and in 2013 received an honorary National Book Award for her contributions to the literary community.
Back in the 1960s, Malcolm X had written to Angelou and praised her for her ability to communicate so directly, with her "feet firmly rooted on the ground. In 2002, Angelou used this gift in an unexpected way when she launched a line of greeting cards with industry giant Hallmark. Angelou admitted she was cool to the idea at first. Then she went to Loomis, her editor at Random House.
In North Carolina, she lived in an 18-room house and taught American Studies at Wake Forest University. She was also a member of the Board of Trustees for Bennett College, a private school for black women in Greensboro, N.C. Angelou hosted a weekly satellite radio show for XM's "Oprah & Friends" channel. She also owned and renovated a townhouse in Harlem, the inside decorated in spectacular primary colors.
Active on the lecture circuit, she gave commencement speeches and addressed academic and corporate events across the country. Angelou received dozens of honorary degrees, and several elementary schools were named for her. As she approached her 80th birthday, she decided to study at the Missouri-based Unity Church, which advocates healing through prayer.
A global citizen Dr. Angelou was a graceful iconic fixture in American culture whose presence on earth will truly be missed.  Rest in perfect peace, phenomenal woman.
Source