Frank Mangio is not the only one in town excited about the 10th Annual San Diego Bay Wine and Food Festival, so are we!  Read on…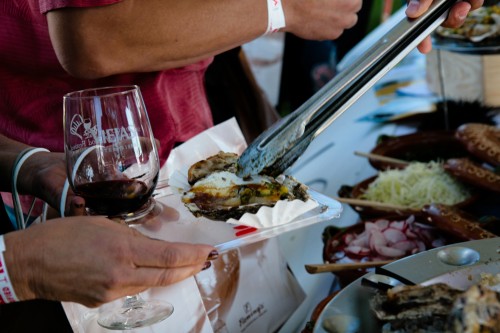 The wine/food event of the year is still 3 ½ months away but by the way the talk is going, it may as well be next week.  The San Diego Bay Wine and Food Festival will be with us November 20 to November 24 for its 10th year.  I've seen them all and the stage gets bigger and grander every year.
Local and national wine and food celebrities will gather at over 20 events in the heart of downtown San Diego to fill your appetites for the largest culinary extravaganza in Southern California.  The alert I have for you now is that tickets just went on sale for this luxury wine and food festival.
The Grand Tasting of the four day San Diego Bay Wine and Food Festival is Saturday November 23 at Embarcadero Park behind
Seaport Village, downtown San Diego.
Make sure the Grand Tasting is highest on your list of events to see.  It's at the Embarcadero behind Seaport Village at the Marina. You will be able to taste over 200 wineries, breweries and spirits and 70 local restaurants and gourmet food companies.  Highlight is the Chef of the Fest Competition where San Diego's best chefs compete for the title.
New this year is the California Classics Cult Wine Tasting featuring Screaming Eagle & Master Sommelier Fred Dame with commentary education, and the story behind each cult wine.
Tickets are now available for all events online at www.sandiegowineclassic.com. For more information, call 619-342-7337.
Frank Mangio is a renowned San Diego wine connoisseur certified by  Wine Spectator.  He is one of the leading  wine commentators on the web.  View and link up with his columns at www.tasteofwinetv.com.  Reach him at [email protected].