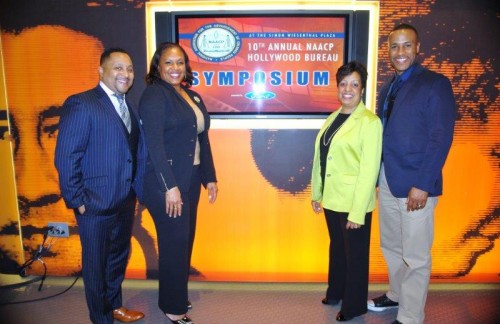 (Los Angeles, CA)  On Thursday Feb. 20, at the Museum of Tolerance in Los Angeles, the NAACP Hollywood Bureau held it's 10th Annual Symposium, during the 45th NAACP Image Awards Week.  This years title, "Moving Forward: The State of the Industry," was sponsored by the Ford Motor Company Fund.
Angela H. Polk Program Manager addressed the crowd by saying, "I'm proud to be here tonight as sole sponsor, and representing the Ford Motor Company, as we recognize a Los Angeles community organization and uplift the 10th Annual Hollywood Bureau Symposium, as part of the 45th NAACP Image Awards week of events. It is important for the Ford Motor Company Fund to partner with and uplift not only the Los Angeles communities but also, all of the champions that are here taking part in all of the events that are going on this week. As part of our sponsorship we are proud to have selected a community partner and organization that is doing great work in the community, which we can support and further the development in outreach programs to students and likewise.   Tonight, the Ford Motor Company Fund is proud to have selected Bill Duke, and the Duke Media Foundation as the recipients of our sponsorship grant in the amount of $10,000 to help further the great work of the Duke Media Foundation here in Southern California."
Actor/Director/humanitarian, Bill Duke graciously accepted the sponsorship and stated, "Words cannot express my appreciation that the Ford Motor Company Fund chose Duke Media Foundation to be the recipient of their sponsorship grant.  I feel they understand our mission of helping our young teens.  Helping children is the most important part of my life's work, and it is really hard to explain why they are such a precious resource to someone else unless they have given of themselves or received that type of helping hand.  So many teens come to our organization lost and, searching for guidance and help. And, that's exactly what Duke Media Foundation is here for, to help them find their way and instill confidence, a  sense of identity and purpose for their lives by the time they leave the program. It is my responsibility to do all that I can do to help our youth.  We need so many more people in the community to step up and be leaders and lend a helping hand.  Just a little bit of your time will help in the fight to educate and guide them to dream bigger and work hard to achieve success.  Thank you so much for your grant Ford Motor Foundation it will go a long way in our mission to help as many youth as possible."
Industry leaders  then convened to discuss new trends in the black film industry with more than 300 Hollywood entertainers, members of NAACP, and aspiring television and filmmaking students in attendance. The panel participants included: humanitarian/activist/director Bill Duke, CAA agent Cameron Mitchell, author and producer Flo McAfee and Senior Vice President of production for Columbia Tristar Pictures Devon Franklin.  Ramsey Jay Jr., nationally renowned writer, producer, and interviewer, served as panel moderator.  There was also an opportunity for Q& A with tons of  the information shared with the audience and success stories on how to prepare yourself for success, failures and opportunities when they present themselves.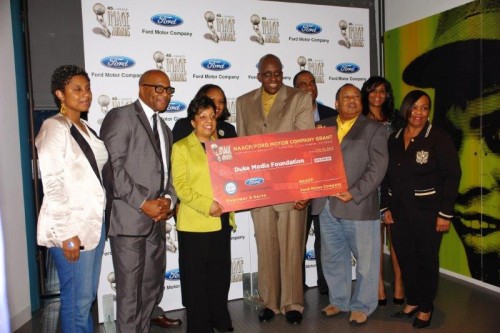 A huge thanks go out to Angela H. Polk, and the Ford Motor Company Fund for being the sponsor of such a wonderful informative symposium and congratulations to the Duke Media Foundation.
Article and Photos contributed by Rochelle Porter of Peache Photo Memories.