Harmony Jennings, who is currently a student at La Mesa Arts Academy, near San Diego,  taps into her writing and illustration skills to help with coping during sad times in her life.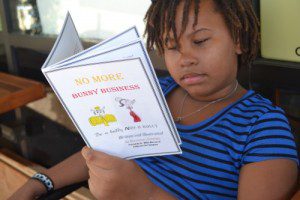 Sadly, Harmony, is another one of the many victim's of bullying.
She say's that for her, the bullying started in fifth grade when, three students began harassing her for being who she is, which is descriptive of one very funny, smart and animated kid.
Harmony shared with The Chocolate Voice, that she would walk down the halls singing and dancing and, from out of nowhere, kids would began to taunt and make fun of her. She told her mother and school officials what was happening, yet the bullying continued.
Unsure of why someone would want to bully her, or anyone for that matter, Harmony, decided to express her painful experience by putting her writing and colorful illustration skills to work, thus, creating a small 16 page children's publication titled, NO MORE BUNNY BUSINESS: Be a Buddy Not a Bully.
In the publication, Jennings creatively takes her readers on a journey in the land of United Animals, in the city Bunny York.  The book tells the story of the main character Little Rabbit (L.R.), who attends a new school and becomes a target of bullying.
Harmony's storytelling is commendable.  It's one that teaches not just children, but anyone, that bullies are often a product of their own environment, and that bullying is unacceptable behavior.
Over summer break, Harmony completed a coloring activity book, and NO MORE BUNNY BUSINESS 2, which this time she's working with another illustrator.
We congratulate Harmony on using creativity when facing adversity. Great job!