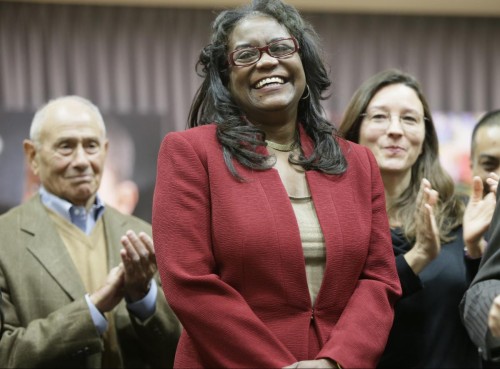 LOS ANGELES – The Los Angeles Unified School District selected Michelle King as its next superintendent Monday, making her the first woman in more than 80 years and the first black woman ever to lead the nation's second largest school district.
The district's board announced its unanimous vote at the end of a closed-door session capping a month of meetings and interviews to select a finalist.
King replaces the recently retired Ramon Cortines, who took over after former superintendent John Deasy stepped down amid mounting pressure to resign following a botched $1 billion plan to provide every student an iPad now under FBI investigation.
King, 54, will also have to contend with the 650,000 student district's deep financial woes and declining enrollment.
Delivering remarks after the board's decision Monday, King said her voice at the table will be "the voice for students."
King attended LA Unified schools as a child and later rose through the district's ranks, most recently serving as chief deputy superintendent.
In 2010, she recalled how, as a biology major at the University of California, Los Angeles, she shifted gears and decided to become a teacher.
"In the classroom, I loved seeing the inquisitiveness in the eyes of my students, their energy and their excitement to learn new things," King said.
King's selection was quickly praised by area education leaders including David Rattray, executive vice president for education and workforce development at the Los Angeles Chamber of Commerce.
"She possesses the experience, talent and dedication needed to lead this district," Rattray said. "We look forward to collaborating with King as we strive to ensure all students graduate from high school college-and-career ready."
Source:  AP