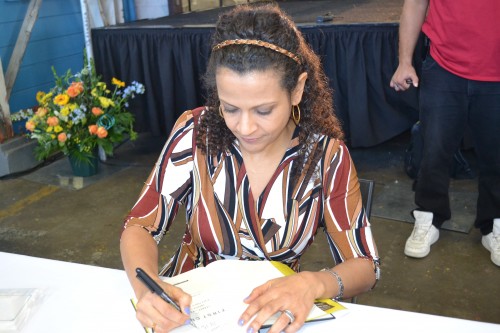 (San Diego, CA) In commemoration of the Rev. Dr. Martin Luther King, Jr., people around the world took a day of service to proudly celebrate the life and legacy of the slain civil rights activist.
Alliance San Diego, a social justice organization, celebrated its 26th All Peoples Breakfast, themed I Have A Voice at the San Diego Public Market located in Barrio Logan San Diego.
To address the theme, award winning journalist and renowned author, Alison Stewart, was the events keynote speaker.  Alison, is the author of First Class:  The Legacy of Dunbar, America's First Black Public High School.
Alison's parents were graduates of Dunbar, and among the many esteemed students and faculty, who during Jim Crow went on to earn graduate degrees, several PhD's–including one early principal who became the first Black graduate of Harvard.
"One need not be a Washington D.C native or a Dunbar graduate to appreciate the thought-provoking and thoroughly pleasant history." Says, Stewart.
The annual event also showcases local artists and organizations and, each year a Social Justice Award is given out.  This year's recipient was, native San Diegan, Carolina Alcoser Ramos for her hard work on LGBT issues.
The goal of the event is to promote change and to encourage the community to use its voice to speak up for inclusion, peace and equality.
Take a look at a few photos of smiling faces from the event: