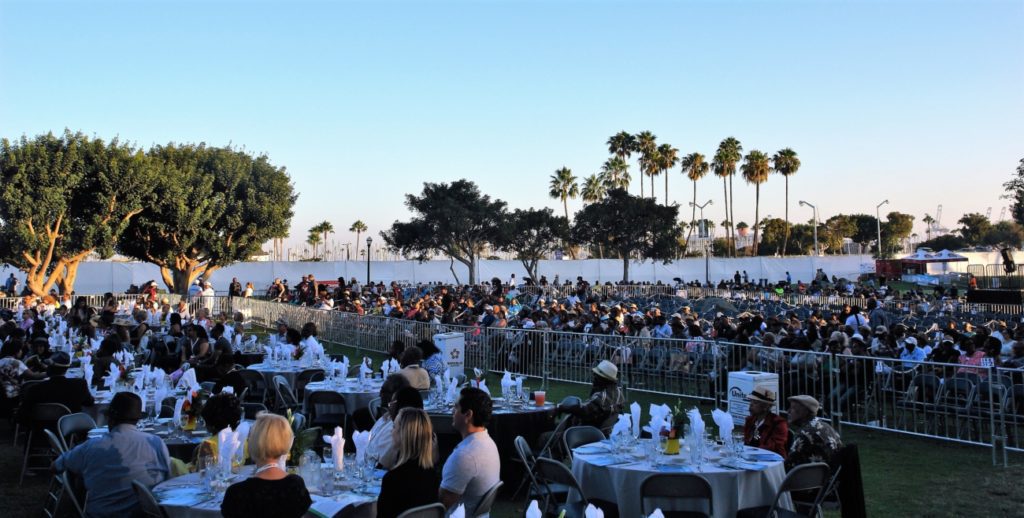 Celebrating 30 years, The Long Beach Jazz Festival closed out the 3-day summer concert series featuring  jazz legends combined with some of finest musicians in the industry.
Fans appeared to have enjoyed the week-end long festival of live music, as they soaked up the sun during the highly anticipated outdoor event held at picturesque Rainbow Lagoon. The grassy, hillside area has proven to be the perfect venue with the ultimate festival ambiance.
Al Williams, drummer and concert promoter and founder of the Long Beach Jazz Festival, started the music festival in the '80s.  Along with his daughter Kimberly Benoit-President of Rainbow Promotions LLC, the pair and their collaborators, deserve a huge congratulations for delivering some of the finest talent in the country to Long Beach, which is ultimately the reason behind the longevity and success of the festival.
Among the esteemed artist to perform this year were legendary, Grammy Award winners including— Pianist, composer and radio personality Ramsey Lewis, composer, Latin Jazz band leader and salsa vocalist, Poncho Sanchez, producer and multi-instrumentalist, perhaps best known as bass guitarist extraordinaire, Marcus Miller, keyboard player and founder of the group Fourplay, Bob James, and saxophonist, songwriter, producer, Boney James, no relation that we know of.
Additionally the stellar line up included— NAACP Image award winner saxophonist and flautist Najee, Jazz fusion band Spyro Gyra, contemporary jazz vocalist Rachelle Ferrell, silky smooth sounds of Grammy nominated vocalist Will Downing, energetic and exciting saxophonist Eric Darius, and jazz vocalist Barbara Morrison, of The Barbara Morrison Performance Arts Center, located in Los Angeles, an organization that supports the Harmony Project, which helps children encounter music in an after-school program.  And, JAZZ IN P!NK,  an all star female ensemble of musical women in jazz who's in a mission is to project talent, beauty, power and femininity while performing.
In between sets from stellar performers, festival goers walked around to a vast array of food and art vendors.  In case you missed the Long Beach Jazz Festival in 2017, 2018 will be here before we know it.
Check out images below.  All Photo's courtesy of Rochelle Porter/Peache Photo Memories.  Enjoy!