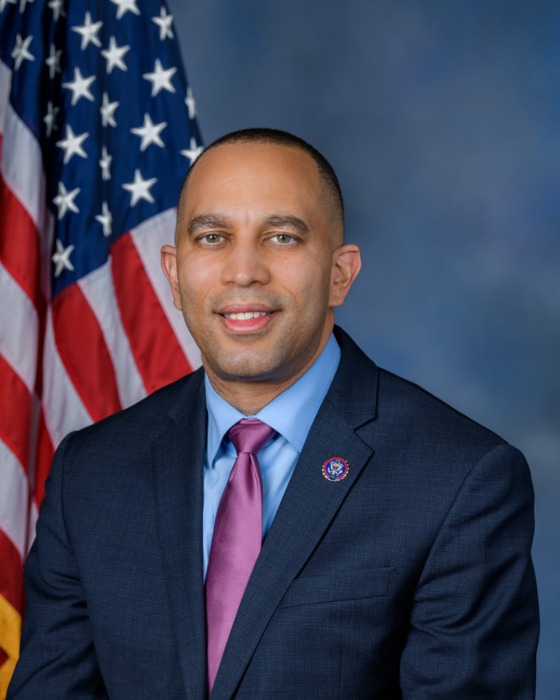 Democrat Hakeem Jeffries will succeed Nancy Pelosi in becoming the U.S. House of Representatives Minority Leader. Jeffries, who is replacing Speaker Nancy Pelosi, will be the first Black lawmaker to lead a political party in Congress. This is a major history-making change in American Politics.
Hakeem Jeffries represents the diverse Eighth Congressional District of New York, an area that encompasses large parts of Brooklyn and a section of Queens. Serving his fifth term in the United States Congress, Rep. Jeffries is a member of the House Judiciary Committee and House Budget Committee.
In Congress, Rep. Jeffries is a tireless advocate for social and economic justice. He has worked hard to help residents recover from the devastation of the COVID-19 pandemic, reform our criminal justice system, improve the economy for everyday Americans and protect our healthcare from right-wing attacks.
Since President Biden took office in January 2021, Rep. Jeffries has been instrumental in House Democratic efforts to put people over politics by lowering costs, creating better-paying jobs and fighting for safer communities. Over the past two years Democrats have passed the American Rescue Plan, the Infrastructure Investment and Jobs Act, the Bipartisan Safer Communities Act, the CHIPS and Science Act and the Inflation Reduction Act.
In January 2020, Rep. Jeffries was selected by Speaker Pelosi to serve as one of seven House Impeachment Managers in the Senate trial of President Donald Trump, becoming the first African American man to serve in that role. During the nearly three-week trial, Congressman Jeffries argued that President Trump should be removed from office for abusing his power by pressuring a foreign government, Ukraine, to target an American citizen as part of a corrupt scheme to interfere in the 2020 election. The House Impeachment Managers established with a mountain of evidence that crimes against the Constitution were committed. Nevertheless, the Senate failed to remove the President without hearing from a single witness during the trial.
Prior to his election to the Congress, Rep. Jeffries served for six years in the New York State Assembly. In that capacity, he authored laws to protect the civil liberties of law-abiding New Yorkers during police encounters, encourage the transformation of vacant luxury condominiums into affordable homes for working families and improve the quality of justice in the civil court system.
Rep. Jeffries was born in Brooklyn Hospital, raised in Crown Heights and is a product New York City's public school system, having graduated from Midwood High School.
Congratulations!
---