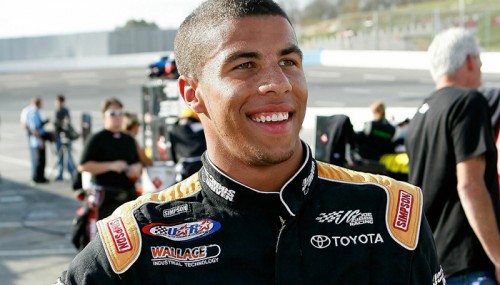 DAYTONA BEACH, Fla. (AP) — Darrell Wallace Jr., is set to make history as only the fourth black driver with a full-time ride in a NASCAR series.
Nicknamed "bubba" by his sister, Wallace the son of a white father and black mother, openly talks of becoming the Tiger Woods of NASCAR. He wants to become a star who can transcend the sport and prove people of all colors can race.
Darrell Wallace Jr.  reportedly says he got the bug for racing at age nine and has experienced great success along the way in go-karts, bandoleros, legends cars and late models.
Nineteen year-old Wallace takes the wheel for the Truck Series race Friday at Daytona International Speedway. He is signed with Joe Gibbs Racing and will drive the No. 54 Toyota for Kyle Busch Motorsports.
Wallace joins Wendell Scott, Willy T. Ribbs and Bill Lester as the only full-time black drivers in the 65-year history of NASCAR. Scott, one of the original pioneers, is the only black driver to win a race.
In 2010, Darrell was selected as part of NASCAR's Drive for Diversity program and got his start in stock car racing at the regional touring level. At his first career start at Greenville Pickens Speedway at age 16, Darrell became the youngest and first African American to win a race in NASCAR K&N series history and in track history
Source:  The Associated Press.