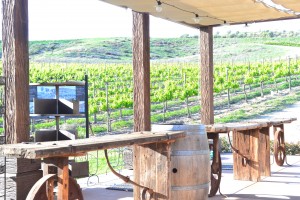 I've been known to visit a few wineries from time to time, but Europa Village takes the cake…or shall I say the grape.
Whether you're a theatre lover, or someone who simply loves being surrounded by warmth coupled with an inviting ambiance, Europa Village, an old world European style winery, is where you want to go.
Europa Village, situated on 40 acres of spectacular views overlooking the beautiful Temecula wine country, is the perfect getaway for any occasion.
The quaint and cozy winery offers guests the opportunity to stay at a world-class bed and breakfast and sip vintage wines from three distinct wine cellars: The C'est La Vie Wine Chateau, which consists of Syrah's, Chardonnay's and Cabernet Sauvignon. There's the Bolero Cellars, where you'll find a sweet and addicting (trust me on this one) Muscat Canelli, and the Vienza for Pinot Grigio lovers, all in the classic traditions of France, Spain and Italy.
During a media preview last week, general manager John Goldsmith announced expansion plans for Europa Village which will offer guests the chance to experience three distinctive winery venues. C'est la Vie Wine Chateau will offer the tastes and style of French wine country, Bolero Cellars will bring a Spanish flare to the table, and Vienza will be a salute to all things Italian.
These intriguing European-style wine country venues will be located on a spacious 153,000 square foot property connected by a village of quaint shops, boutiques and walking paths. All of these amenities will complement the luxurious 40-room resort and spa.
The expected completion date for the project is 2020.
Europa Village also offers unique Musical Wine Dinners that include a four-course gourmet dinner, prepared by award-winning Chef Dean Thomas, accompanied by entertainment that is made up of extraordinarily talented performers.
Here's a sneak peak at one of the upcoming performances: Festival De Cannes (honoring the prestigious Cannes film festival), which will include inspiring performances by singing waiters.
Join Europa Village for an unforgettable wine country experience California style!
For more information or for tickets visit EuropaVillage.com.