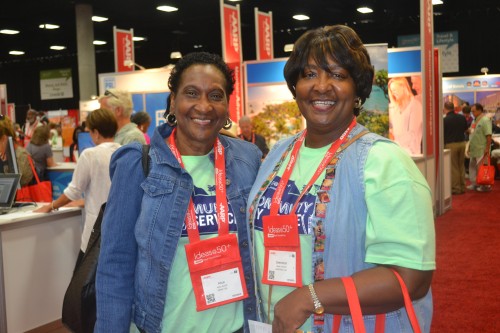 San Diego, CA–AARP's [email protected]+ national event has landed in San Diego for three exciting days, from September 4-6, 2014, filled with volunteering and activities, focusing on the 50+ audience.
Baby Boomers will have an opportunity that includes: entertainment, information sessions featuring celebrity panelist, concerts, contests, experts and over 150 exhibitors – bringing some of today's most renowned faces and companies to one of the world's finest cities.
Thousands of attendees from around the world will gain access to hundreds of valuable products and services unique to AARP, including health services, technology, travel and leisure all targeting the 50+ demographics.
The event kicked-off on Thursday, with a day of service where attendees gave their time and effort to various community service organizations in the San Diego area including packing 50,000 meals for hungry San Diegans served by the Jacob & Cushman San Diego Food Bank. In addition to the service project, a $25,000 check was presented to Jacob & Cushman San Diego, from the AARP Foundation.
Attendees also had an opportunity to gain hands on experience with AARP TEK (Technology, Education and Knowledge) workshops which provided free technology and social media training.
Celebrities in attendance include: Dan Marino (NFL Hall of Fame Quarterback), Martha Stewart (Lifestyle expert, Businesswoman and Author), actor's Kevin Spacey and Julia Louis-Dreyfus, Randy Jackson (Music producer and American Idol Judge), actors Valarie Harper ( from the hit series Rhoda) and LeVar Burton (Roots and Reading Rainbow).
On Friday, the AARP Boomer Superstar singing competition will take place emceed by American Idol mentor, Randy Jackson  and 19-time Grammy winning producer Emilio Estefan, and will include performances by Grammy Award-winning R&B/jazz vocalist Patti Austin and American Idol Season 5 Winner Taylor Hicks.
Saturday concludes with  more fun and  informative activities throughout closing out with a               concert featuring John Mellencamp, featuring special guests Los Lobos and Mavis Staples.
Additional information on [email protected]+, and for complete schedule visit:  www.aarp.org/events.