"Football is fun. But ultimately it is education not sports that is a way out of poverty for young student athletes." Larry English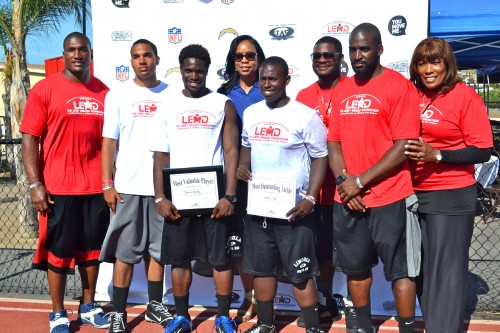 If you want to play in the game, you have to make the grades.  This might sound cliché, however, it's probably one of life's most important lessons that coaches, mentors and parents can stress to student athletes.
San Diego Chargers Outside Linebacker Larry English, knows all too well what it takes to achieve in the classroom. As a graduate of Northern Illinois University, his mother made sure of it.  Under his Mom's strict guidance, Larry was made well aware that without a good grade point average (GPA), playing sports in high school or college was out of the question. He later on found this to be true in professional sports, where players are tested for the Wonderlic— an aptitude test used to assess learning and problem solving skills.  As it turns out, in 2009, when Larry began his career in the NFL as a 1st round draft pick, he scored a 34 on the test, one of the highest ever recorded for his position.
Recognizing the challenges of juggling athletic commitments with academics, particularly, for student athletes in disadvantaged communities, Larry along with his mother Susan English, a community advocate and humanitarian, saw the need to help students achieve their dreams. In 2010, mother and son launched The Larry English Leading Education to Athletes for their Dreams (L.E.A.D.) Foundation, a 501c3 not for profit organization that is committed to increasing academic performance, shattering the myth of the stereotypical African-American Athlete. The main focus of the organization is to provide support services to high school student athletes as a means to empower, educate and for personal development.  
Through a team of professionals, L.E.A.D offers the following programs: Personally Responsible for your Outcome (P.R.O.) and, Larry English L.E.A.D. Football Camp.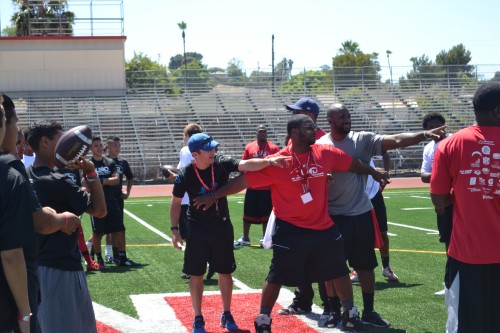 The P.R.O. Program's goal is to inspire disadvantaged youth to value education as a means of achieving their dreams. The program consists of educators offering academic support, college coaching and career exploration. 
The vision to host a free football camp came about when Larry recalled during his youth never being able to attend any type of professional football camps, due to lack of funds and transportation.  With that in mind, Larry made a vow that if he made it to the pro's, he would host a free camp. Staying true to his word, the foundation is proud to host the Larry English Football Camp, offered in San Diego and Chicago. 
In the foundations second year of hosting the camp in San Diego, the two schools which have been selected so far are, Lincoln and Mount Miguel High School. The camp is a non-contact (no equipment) skills camp designed for in coming high school freshman and incoming senior athletes ages 13-18. Throughout the camp, coaches include roughly 30 of Larry's teammates from the San Diego Chargers, that emphasize teamwork and sportsmanship.  The camp is made up of 100 youth participants, who are exposed to speakers, professionals and medical experts who emphasize healthy eating patterns, hydration, head trauma and, the importance of an academic game plan.
"The depth of knowledge on the field–from our coaches to our speakers—reaches beyond football fundamentals.  It's about shattering the myth of the stereotypical African-American athlete through education and empowerment." Says, English.
For more information visit:  www.Larry-English.org