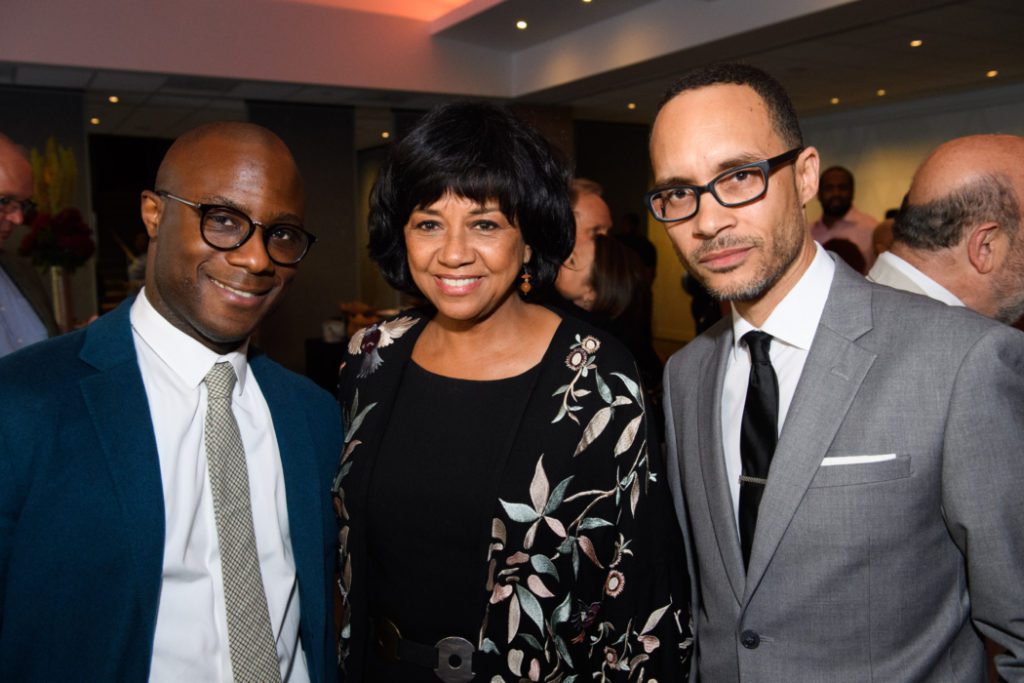 Pictured: Writer-Director Barry Jenkins, Academy President Cheryl Boone Isaacs and Sreenwriter Theodore Witcher prior to a 20th Anniversary screening of "Love Jones" presented by the Academy of Motion Picture Arts and Sciences, on Tuesday, June 13, 2017.
In a push for diversity and inclusion, the Academy of Motion Pictures Arts and Sciences is welcoming in 774 entertainment industry professionals into its membership. In the largest class ever, and most dramatic step to diversify its overwhelmingly white and male membership, African American industry standouts including:  Barry Jenkins ("Moonlight"), Debbie Allen ("Fame," "Ragtime"), Donald Glover ("The Martian," "Magic Mike XXL"), Naomie Harris ( "Moonlight," "Skyfall"), Aldis Hodge ("Hidden Figures," "Straight Outta Compton"), Dwayne Johnson ("Moana," "Central Intelligence")
Leslie Jones  ( "Ghostbusters," "Masterminds") "Zoë Kravitz ("Divergent" series, "Mad Max: Fury Road"),
Sanaa Lathan  ("Out of Time," "Love and Basketball") Phylicia Rashad ( "Creed," "For Colored Girls") Maya Rudolph ("Maggie's Plan," "Bridesmaids") Anna Deavere Smith ("Rachel Getting Married," "Philadelphia") Wanda Sykes ("Snatched," "Evan Almighty")  Terry Crews ("The Expendables" series, "Draft Day") and, Janelle Monáe  ("Hidden Figures," "Moonlight").
With the list comprising 39% female and 30% people of color, both numbers increasing overall totals in those categories which has been a focus of AMPAS over the past couple of years. Hollywood's most elite club, now boasts overall female membership to 28%  and poc to 13%, both marking incremental increases year to year on the Academy's stated journey to doubling those areas by 2020.
Two white women, Elle Fanning the youngest invitee at 19, and Betty White at 95 is the oldest.