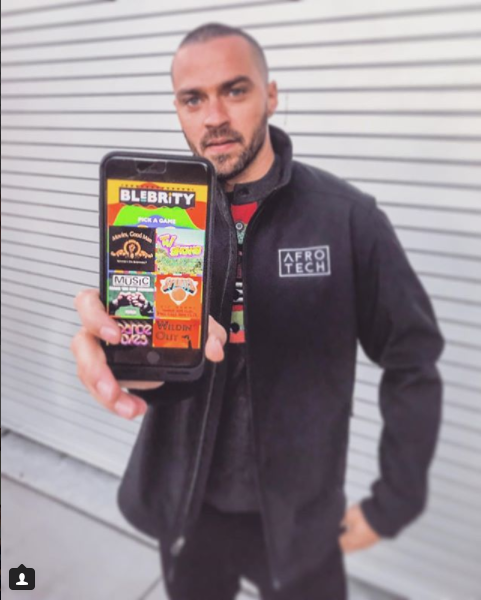 SAN FRANCISCO – November 11, 2017- Actor and Technology Entrepreneur, Jesse Williams, announced  the release of his first mobile game app, BLeBRiTY. The announcement was made at Blavity's AFROTECH Conference, the largest African-American tech conference in Silicon Valley. Comedy and color run deep in this exciting new game now available exclusively from the App Store, for iPhone and iPad.
Whether you're home for the holidays, hanging with friends or killing time at work, any night can be game night with BLeBRiTY: the charades-inspired game that dives headlong into black pop culture trivia! With incredibly creative categories spanning generations and interests, players try to guess their card based on the hilarious clues being shouted at them through tears of laughter. By definition, the game is LiT!
"We decided to stop waiting and start building. By creating the experiences we like, we've tapped into our own cultural zeitgeist, which is so often the source material for pop culture at large. BLeBRiTY is an uproariously funny, creative event where everyone can play, learn and laugh their asses off! We don't wait to be included anymore, we build and include ourselves." says Williams.
There are over 30 curated categories filled with hilariously creative cultural touch points ranging from, '80s Babies' and 'Things Bougie Black Folks Love', to 'HBCUs', 'Momma Phrases' to 'Celebrities Only Black Folks Know.' The gaming experience is not only wide ranging and family friendly but validating in the process.
Once players have finished a round, they can play back the video and share them with friends and on social media using #BlebrityGame. Jesse will upload a chosen few favorites to his social feeds (@iJesseWilliams) and the BLeBRiTY Instagram (instagram.com/blebritygame), Twitter twitter.com/BlebrityGame and Facebook (facebook.com/blebrity) pages. Join the family by making great memories and sharing your videos with the Blebrity community today!
BLeBRiTY is available for $1.99 from the App Store on iPhone and iPad.
Williams a native of Chicago and graduate of Temple University, began his career teaching at low-income Philadelphia public charter schools. After moving to New York City, he later began his professional acting career. Williams stars in ABC's Grey's Anatomy and has served as senior producer with Norman Lear for EPIX docuseries America Divided. He also executive produced the documentary Stay Woke: The Black Lives Matter Movement and the upcoming Survivors Guide to Prison. Williams gained international attention while accepting the 2016 BET Humanitarian Award where he contextualized the ongoing struggle for full citizenship and equity under the law.
His feature credits include The Butler, Cabin In The Woods, Brooklyn's Finest, and the upcoming Jacob's Ladder. Williams founded his own production company, and executive produced Question Bridge: Black Males, a series of transmedia art installations acquired by both the Smithsonian National Museum of African American History & Culture and The Brooklyn Museum.
Last year Williams, with co-founders Glenn Kaino and Aryn Drake-Lee, launched Ebroji, the first curated GIF keyboard designed specifically to enhance the way we already communicate. In addition, Williams served as Curator of Tech and Innovation at ComplexCon. Williams hosts a podcast, Open Run, through a partnership with LeBron James' digital network, Uninterrupted. He's the youngest member of the Board of Directors at both Advancement Project and Sankofa.org. He is also a partner and board member at Scholly, the mobile app that has connected students to over $80 Million in scholarship money and counting.