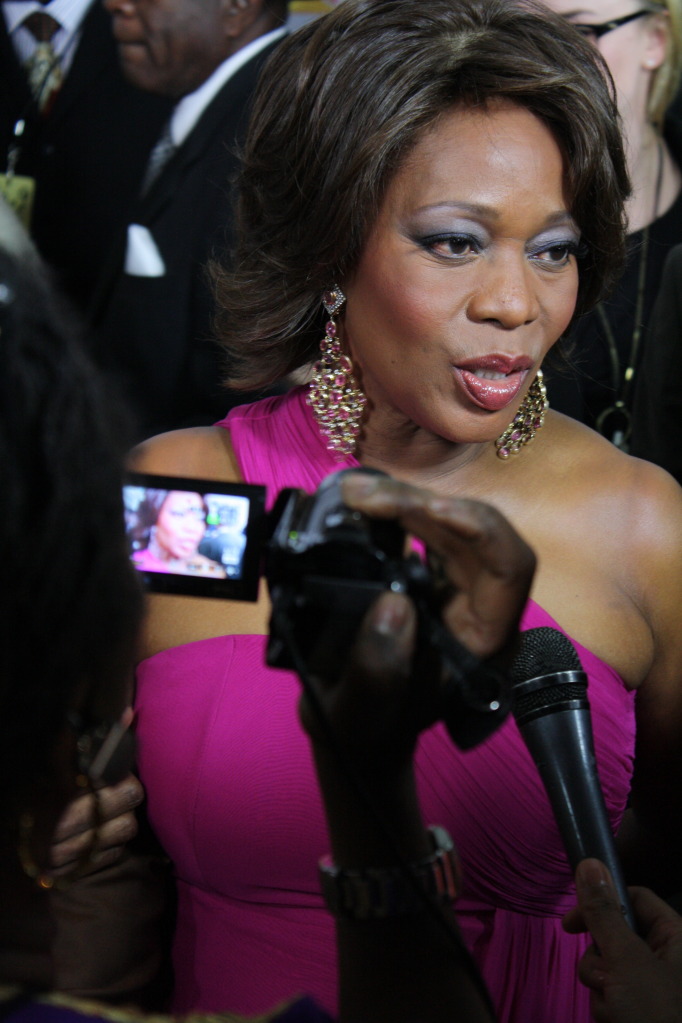 Emmy Award Winner Alfre Woodard will join the Lyons as a guest-star on EMPIRE. She is set to play "Renee," Cookie's mother who comes back into her life with a turbulent reunion.
The highly anticipated return of EMPIRE will air all-new episodes beginning Wednesday, March 28 @ 8/7c on FOX.
Alfre Woodard's work as an actor has earned her an Academy Award nomination, four Emmy Awards and 17 Emmy nominations, three Screen Actors Guild (SAG) Awards and a Golden Globe.  Woodard's illustrious body of work includes her Academy Award-nominated performance in Martin Ritt's "Cross Creek"; the cable film "Mandela," for which she was honored with an ACE award for her portrayal of Winnie Mandela; Lawrence Kasdan's "Grand Canyon"; John Sayles'"Passion Fish"; Joseph Sargent's "Miss Evers' Boys," for which she won Emmy, SAG and Golden Globe Awards; Spike Lee's "Crooklyn"; Gina Prince-Bythewood's "Love And Basketball"; Tyler Perry's "The Family That Preys"; and Maya Angelou's "Down In The Delta." She portrayed "Betty Applewhite" on "Desperate Housewives"; and "Ruby Jean Reynolds," the mother to "Lafayette Reynolds," on "True Blood." Woodard also co-starred in the cable remake of "Steel Magnolias," for which she was nominated for a SAG and Emmy Award and won a NAACP Image Award for her performance as "Ouiser."
Most recently, she appeared in the critically acclaimed "12 Years A Slave," directed by Steve McQueen; in Marvel's"Captain America: Civil War"; and in the horror movie "Annabelle." She next will be heard as the voice of "Sarabi" indirector Jon Favreau's "The Lion King"; and will serve as an executive producer and star of "Juanita." On the small screen, she most recently starred in the streaming series "Marvel's Luke Cage" and "Lemony Snicket's A Series Of Unfortunate Events."
She also directed and produced "Nelson Mandela's Favorite African Folktales," which won the 2010 Audiobook of the Year, and garnered a 2010 Grammy Award nomination for Best Children's Spoken Word Album. The audiobook features a broad array of celebrity voices, including Matt Damon, Don Cheadle, Helen Mirren, Samuel L. Jackson and the late Alan Rickman.
In addition to her acting career, Woodard is a longtime activist. She co-founded Artists for a New South Africa, a nonprofit organization working to reverse the spread of HIV/AIDS and further the cause of democracy and human rights in South Africa. In 2009, President Barack Obama appointed her to the President's Committee on the Arts and Humanities. As part of her work on the Committee, Woodard adopted several high poverty and under-performing public schools around the country, including ReNew Cultural Arts Academy in New Orleans and Noel Community Arts School in Denver. She is an active advocate for the arts in education, largely through her work on the Committee's "Turnaround Arts" initiative, which was launched in cooperation with the U.S. Department of Education and the White House Domestic Policy Council to narrow the achievement gap and increase student engagement through the arts.