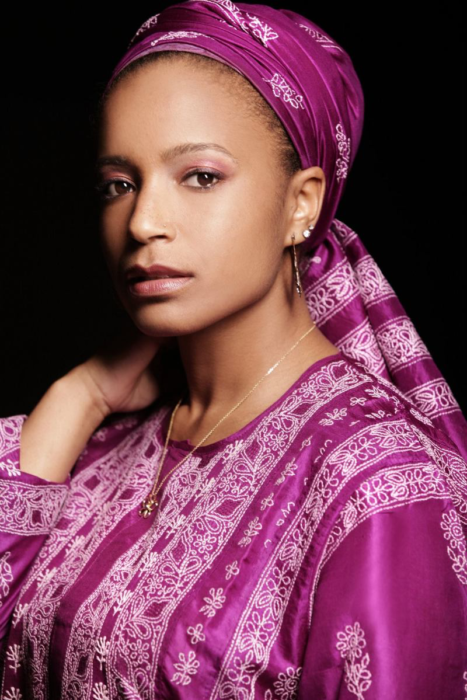 Writer, director and producer Nia Malika Dixon is part of an ever-growing list of African-American Muslims who are making their voices known in the creative community. She launched her media production company Audaz Entertainment Inc., in 2006 to bring her vault of stories to life as a Black Muslim American. In her storytelling, Dixon wants to offer a fresh and new POV, about a community and culture that hasn't been allowed to exist on the small or big screen, until now.
Dixon is part of the writing team for the new show, "East of LaBrea," a newly-greenlit project by Paul Feig and his production company, Powderkeg Media. Dixon, along with three other women of color, helped to create the digital series as a part of an incubator program, led by Margari Aziza Hill, co-founder of MuslimARC, and funded by Pop Culture Collab, called "Break the Room." MuslimARC (Muslim Anti- Racism Collaborative) partnered with tv writer Sameer Gardezi, ("Modern Family" and "Outsourced") to create something that reflected the Muslim-American experience.
"East of La Brea" centers on two, twenty-somethings – that is, a black Muslim girl from Los Angeles and her Bangladeshi-American roommate as they learn about 'adulting,' on their own terms, living in Koreatown. The show is executive produced by Gardezi, along with Powderkeg's Feig and Laura Fishcher. Shooting starts this month.
"I am honored to be a part of a program whose efforts beautifully showcase the cultural competency that can be brought into the writers rooms, and that our dynamic and compelling stories can be authentically told through diverse voices," said Dixon.
For Dixon, a Muslim since birth, "East of LaBrea" is a validation that there's room for the black Muslim experience to be showcased and consumed by a viewing audience. The Baltimore native arrived in Tinseltown in 2005 with a head full of stories, centered around people who looked and lived like her. However, she was met with some resistance. Although executives loved her work, there was always the question of "Is this a black story or is this a Muslim story?" "Both," said Dixon, who believes the narratives of black Muslims can share a duality of storylines. Along with "East of LaBrea," her other writing credits include "A Story of You," "Vengeful" "City in the Sea," "The Trap" (aka "Chrysalis") and "Temporary Loss of Power."
"My goal has always been for Audaz Entertainment to be Hollywood's go-to source for inclusive, curated content, for everything black and Muslim," said Dixon. Last month, she became the first black Muslim woman to produce a live comedy special, called "A Love Supreme: An Anatomy of Gratitude," starring Muslim comedian and funnyman Preacher Moss. In collaboration with Ta'leef Collective and shot by documentarian Mustafa Davis, the taping was held at the HUB 925 on June 30, 2018 in the Bay Area.
Dixon is currently in post-production for the comedy special, adding other elements, including backstage interviews, behind-the-scenes footage and other artistic components. For more about "A Love Supreme," click here to visit the social media release.
Dixon is currently prepping to shoot a short film, titled "Shattered Lenses," with funds from The Disruptors and Affinis Labs. The film takes place on a college campus, and centers a black Muslim female student caught in the middle of a racial and cultural clash between various student union groups, including the Muslim Student Association (MSA).
This year, Dixon launched the empowerment brand #BlackMuslimGirlFly! and hosts a weekly, live talk show every Monday at 6:30 p.m. PT on Instagram and Facebook at www.facebook.com/BMGFlyTalks/ and @BMGFlyTalks on Instagram.
---
NIA MALIKA DIXON, writer/director/producer | at a glance
Baltimore native Nia Malika Dixon is a writer, director and producer. She founded Audaz Entertainment to produce diverse, culturally-relevant content reflective of the black Muslim American experience. Her television and film writing credits include "East of LaBrea," "A Story of You," "Vengeful" "City in the Sea," "Temporary Loss of Power" and "The Trap" web series (aka "Chrysalis"). She's also completed several writing assignments for Revelations Entertainment, the production shingle of Oscar-winning actor Morgan Freeman.
As a filmmaker, Dixon served as 2nd assistant director on "Fig," the thesis film for director Ryan Cooglar ("Black Panther," "Creed"). She's received numerous awards and recognition for her work and screenplays, including "Vengeful," an original pilot for a police drama with a black female lead. In 2007, she nabbed her first award for her first short film, "Temporary Loss of Power," named an audience favorite at the Baltimore Women's Film Festival. Dixon was also a finalist for the AFI 2010 Directors Workshop for Women. The web series, "The Trap" (aka "Chrysalis"), took home" Best Urban Web Series and Best TV/Web Series at the Beverly Hills Film, TV, & New Media Festival and the Urban Mediamakers Film Festival, respectively. Since completing the short film, "City In the Sea," she has been preparing to shoot "The Trap" as her first feature film. Dixon is mentored by director Catherine Hardwicke ("Thirteen," "Lords of Dogtown" and "Twilight").
You can check out her work here on Vimeo.