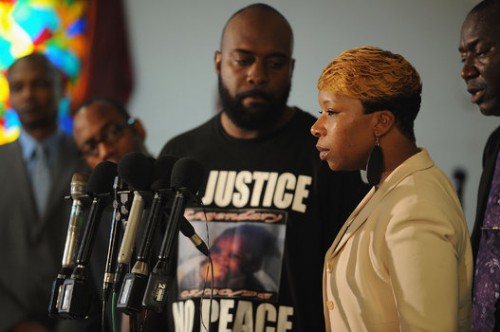 The family of Michael Brown and thousands of marchers are expected to protest the death of Eric Garner, the unarmed Black man killed by a chokehold by a White NYPD officer.
The "We Will Not Go Back" march on Saturday is being led by the Rev. Al Sharpton's National Action Network and will bring together both grieving families to shine a light on the senseless killings. The protest will begin at 11 a.m. on the street where 43-year-old Garner was placed in the fatal chokehold and end with a rally at the office of Staten Island District Attorney Daniel Donovan, who sent the case to grand jury earlier this week.
On Wednesday, it was confirmed Brown's family would be in attendance at the march. They will hold Brown's funeral and memorial service on Monday (Aug. 25).
The deaths of Garner and Brown happened less than a month apart. Garner was stopped by police on July 17 for allegedly selling loose cigarettes and subsequently put in a chokehold (which is prohibited by NYPD departmental policy) following a verbal dispute. A medical examiner has since ruled the death a homicide.