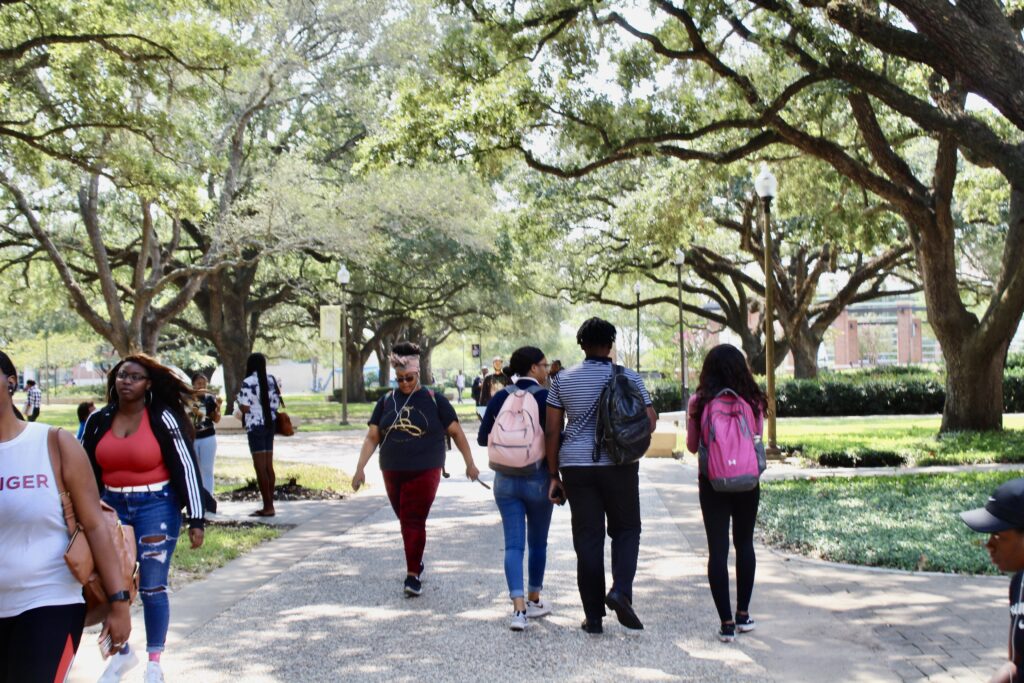 The journal article "Empowering Black Scientists in STEM: Early Success of the Black Bio-mechanists Association" points out that even though Black students have a similar college/university entering rate, the leaving rate of Black students is higher, meaning more Black students leave STEM majors than white ones. The authors put this down to DEI (diversity, equity, and inclusion) barriers. DEI barriers refer to the financial and social obstacles Black people in America face — these impact Black students' ability to complete their degrees.

The National Center for Science and Engineering Statistics reported that there were 2,027,114 Black or African American students enrolled as undergraduates in 2018. This was actually the lowest enrollment number — lower than 2008 even, 10 years prior, when 2,097,256 students were recorded. But while Black student enrollment may have dropped, degrees earned by minorities increased. They reported that "in 2018, underrepresented minority students received 24.0% of all S&E bachelor's degrees awarded to U.S. citizens and permanent residents, 22.1% of S&E master's degrees, and 13.6% of all S&E doctoral degrees."
Does the government provide any financial assistance to Black students?
Under President Biden's Build Back Better Framework, Historically Black Colleges and Universities (HBCUs) received more financing. The framework is intended to help the American middle class by creating more jobs, helping middle-class workers stay in the labor force, and growing the economy from the bottom up. Among the numerous plans is one to help lower the cost of higher education — which is one of the primary barriers minority groups face in obtaining a post-secondary education. Some examples of this are increasing the amount of the Pell Grant and making it accessible to DREAMers, and investing in HBCUs, Tribal Colleges and Universities (TCUs), and minority-serving institutions (MSIs) to provide more financial aid and increase capacity. In 2021, the Biden-Harris released a proclamation officially recognizing National HBCUs Week thereby acknowledging the vital role they play in providing education and training for many. As part of the American Rescue Plan, a pandemic relief fund, $3.7 million was provided to HBCUs. $500 million was awarded to HBCUs by the Department of Education as part of the FY 21 Grant Funding. For the FY 22 Budget Request, President Biden requested $1.06 billion for HBCU-specific funding — these are Title III mandatory funds to "provide formula grants to all HBCUs to invest in capacity-building initiatives and student success programs".

The Build Back Better plan will also provide tuition subsidies to students who attend HBCUs with a family income below $125,000. In 2020, the U.S. Census reported that 28.1% of Black alone households earned below $24,999 — 11,4% in the $15,000-$24,999 bracket and 16.7% in the below $15,000 bracket. For context, the NCES reported that the average total cost of attending a public four-year institution minus aid and scholarships was $14,200 — it was $28,100 at private nonprofit institutions and $23,200 at private for-profit institutions.
How to win scholarships for Black students
Many of the scholarships for Black students are for studying at Historically Black Colleges and Universities, or HBCUs, as they are known. We recommend that you apply for admission to one of the 107 HBCUs across the U.S. to stand a better chance of winning a scholarship. These scholarships are often meant to supplement federal aid so ensure that you've filed for Free Application for Federal Student Aid or FAFSA. This will also help organizers determine whether you are eligible – financial need is usually an eligibility requirement and qualifying for federal aid is a way to prove that you need assistance. Read the tips we've provided on each of the scholarships to ensure you nail your application.
To Apply, please visit: https://scholaroo.com/black-student-scholarships/