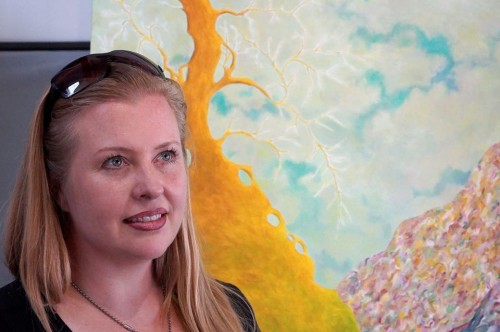 Several months ago, I had a wonderful coffee date with Southern California artist, Andrea Cruz. Andrea's work was introduced to me by a cousin, who shared that the two had  previously worked together in Dallas, Texas where she attended a showcase displaying the artists' paintings. She went on to describe the talented artist' work as very intense in her creative use of bold colors, that strongly connect with the eye.
After reviewing her work, I understood what my cousin meant, I was completely blown away. The lady is truly gifted.
During our chat, the naturally gifted artist shared that on the one hand she never received any type of formal training while on the other hand, some might argue that DNA plays a part in her talent. As it turns out, her grandfather (now deceased) also loved to paint as a hobby, left Cruz all of his art supplies. 
Cruz says that growing up her talent was identified early. "I could draw anything as an exact match from a very early age. Horses, people, nature scenes. Everyone knew just what get me as a gift, art supplies. It's all I ever wanted. Easels, brushes, paper, paints and even crayons. Especially the crayons!" 
The soft spoken artist also admits that the first time she laid eyes on that first box of 64 crayons it took her breath away. The colors that were in between the other colors were her favorite crayons. Cruz spent hours dissecting them to figure out what colors were combined to make these other colors. By age eight she could pull any crayon out of the box and tell you exactly what percentage of each color went into the crayon to create a single color they called Cornflower Blue. 
When asked what's her favorite subject to paint? Her instant answer: People! People in moments of extreme passion, connected in the moment with their true core being, living in the moment, with all ego aside.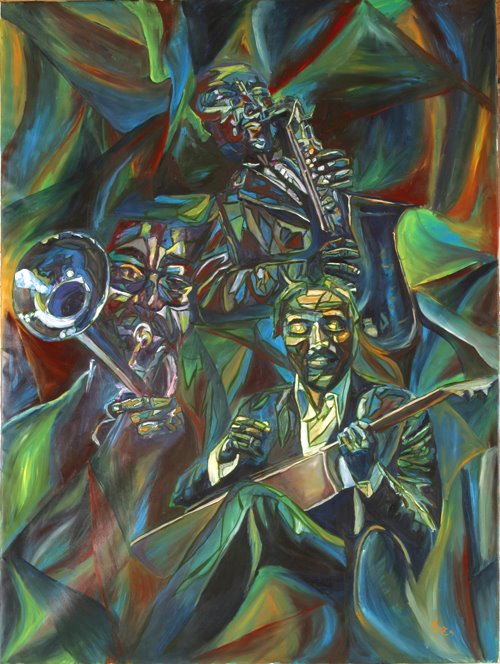 "You can also spot them in a crowd. These are the people on the streets who seem to own their space. When I see that energy I know they are connected and living in their power and I'm always inspired by it. It's the same when I see people in moments of extreme focus, like a dancer, musicians or athlete. Whenever I see these moments I feel such strong emotion and it always expresses itself through me in color"  explains Cruz."
Cruz is inspired by vibrant, living, loud and overwhelming color, which she shares is her first love in the creative process."At some point I started looking at colors that you never saw together and I'd try to find the middle ground between them. Like (color and color) these two are not seen together much in artwork and I think because the contrast is too great," she says.
This connection with colliding color is what initially sets her work apart in shows and competitions and has led to a growing following of galleries and collectors. 
Cruz's first piece in her emotionally charged body of work is a painting of a jazz
trio she calls Solo. "In the painting, the musicians are all playing together but they are each so deeply connected with themselves and what they are doing it's as if none of them know that anyone else exists at that moment. They are so free in their focus and attention that they seem all alone at that moment," she explains.
Her love for bold, intense, contrasting colors that carry a feeling of strength and power but maintains a thread of harmony between them is what makes Cruz's work appeal to the eye.
Andrea is currently working on the illustration for a series of children's books called The Magic Box Books. There will be many different adventures. She  recently finished the first one, The Pirate Adventure. 
To check out more work of Artist Andrea Cruz, visit Andreacruz.net, or Like her page on Facebook at https://www.facebook.com/pages/Andrea-Cruz-Artist-page/106169042836355
Edited with permission from a recent article written by:  Rex Riffel