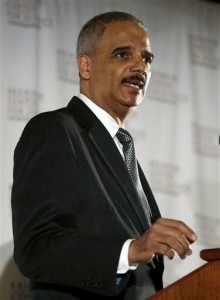 Eric Holder, the nation's first black chief prosecutor and one of the few remaining original members of President Obama's cabinet, announced his resignation today. Holder will remain in office until a successor is nominated and confirmed, Obama said at a brief White House announcement. Standing next to Holder, he called his friend's departure "bittersweet."
"I will never leave the work. I will continue to serve," said Holder, whose nearly six years in the office make him one of the nation's longest serving attorneys general.
Holder's departure sets up a potentially tense confirmation battle with Republicans in a lame-duck U.S. Senate session scheduled after the Nov. 4 midterm elections. Republicans hope to gain a Senate majority in the elections, making it likely Obama will send up a nomination before a new Congress convenes in January.
His successor will face an array of challenges, including managing counter-terror initiatives aimed at Islamic State militants, balancing privacy rights against government eavesdropping efforts, and deciding whether to continue attempts to prosecute former spy agency contractor Edward Snowden, now living in Russia, for revealing surveillance secrets.