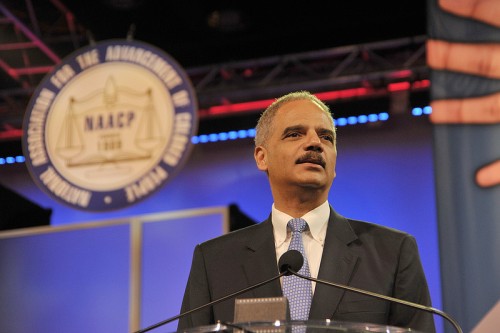 Via Press Release –
LOS ANGELES, CA (Jan. 14, 2015) – The Honorable, Attorney General of the United States, Eric H. Holder, Jr. is set to receive the NAACP Chairman's Award during the 46th NAACP Image Awards, broadcast live on Friday, February 6 (9:00 p.m. ET/PT tape-delayed) on TV One, the civil rights organization announced today.
The Chairman's Award, chosen by Chairman of the NAACP National Board of Directors, Roslyn M. Brock, is bestowed in recognition of special achievement and distinguished public service. Past honorees include United States Navy Vice Admiral Michelle Howard, Radio One Founder and Chairperson Cathy Hughes, U.S. Surgeon General Dr. Regina Benjamin, Tyler Perry, Former Vice President Al Gore and Dr. Wangari Muta Maathai, Aretha Franklin, Bono, then-Senator Barack Obama, The Dave Matthews Band, Danny Glover, and Forest Whitaker.
"Eric H. Holder, Jr. has a national reputation for his significant work around civil rights and race in America, voting rights, and criminal justice reform.  In honoring Attorney General Holder, the NAACP focuses on his life's work and accomplishments as our nation's first African American Attorney General" stated Roslyn M. Brock, Chairman of the NAACP National Board of Directors. "I am personally inspired by his many civic commitments including service on the board of Columbia University, the National Center for Victims of Crime, the Meyer Foundation, and the Save the Children Foundation, his expansive legal career including working for the NAACP Legal Defense and Educational Fund, as well as his positions on a number of tough race-related issues to ensure fair and equitable treatment for all Americans.  It is my honor and privilege to recognize Mr. Holder."
President Barack Obama nominated Mr. Holder to be Attorney General and his nomination was confirmed by the United States Senate on February 2, 2009. Mr. Holder began his service as the eighty-second Attorney General of the United States the next day. Eric H. Holder, Jr. was born in New York City and attended public schools there, graduating from Stuyvesant High School, before earning a B.A. in American History from Columbia College in 1973 and a J.D. from Columbia Law School in 1976.
Upon his graduation from law school, Mr. Holder joined the Department of Justice through the Attorney General's Honors Program.  He was assigned to the newly-formed Public Integrity Section, where he investigated and prosecuted corruption involving officials in local, state, and federal government.  In 1988, President Reagan appointed Mr. Holder to serve as an Associate Judge of the Superior Court of the District of Columbia, where he presided over hundreds of criminal and civil trials during his five years on the bench.  In 1993, President Clinton appointed Judge Holder to serve as the United States Attorney for the District of Columbia.  In 1997, President Clinton appointed Mr. Holder to serve as Deputy Attorney General of the United States, a position that he held until the end of the Clinton administration.  At the request of President George W. Bush, Mr. Holder served as Acting Attorney General in 2001 pending the confirmation of Attorney General John Ashcroft.
Mr. Holder has received numerous awards in recognition of his professional and civic contributions, including the Department of Justice's Special Achievement Award, the District of Columbia Bar Association's Beatrice Rosenberg Award, and George Washington University's Martin Luther King, Jr. Medal for Outstanding Service in Human Rights.  The District of Columbia Bar Association recognized Mr. Holder as its Lawyer of the Year in 1997.
The NAACP Image Awards celebrates the accomplishment of people of color in the fields of television, music, literature and film and also honors individuals or groups who promote social justice through creative endeavors. Winners will be voted upon by NAACP members and announced when the envelopes are opened on Thursday, February 5 during the Awards Ceremony for non-televised categories. The remaining categories will be announced LIVE on stage during the two-hour star-studded TV One telecast on Friday, February 6 (9:00 p.m. ET/PT tape-delated). The telecast will also include a one-hour pre-show airing live from the red carpet (8:00 p.m. ET/PT tape-delayed).
For all information and latest news, please visit the official NAACP Image Awards website.