Aubry L. Stone CEO of The California Black Chamber of Commerce 
Brooklyn native Aubry L. Stone is a prime example of a mover and a shaker. At 68 years young, he is energetic, warm and passionate about his involvement as a community activist for economic empowerment. As President/CEO of the California Black Chamber of Commerce and Executive Director of the California Black Chamber Foundation (the national voice of black business), he is one force to be reckoned with.
His optimistic views on black achievement are evident and under his direction of The California Black Chamber Foundation (CBCF), the organization became the state's only African American owned and operated low powered radio station (97.7 KDEE FM) serving the Sacramento area and nation-wide online streaming.
In 2010, Stone was appointed by Governor Jerry Brown to serve as California Commissioner For Economic Development.  He also serves on the United States Black Chamber of Commerce and the California Regional Community Utilities Diversity Council.
Stone's passion for empowering black businesses also involves another very important segment of the population, the youth.  Operating under CBCC programs, the Junior Black Chamber of Commerce Program was established to empower and educate young adults in business development and leadership.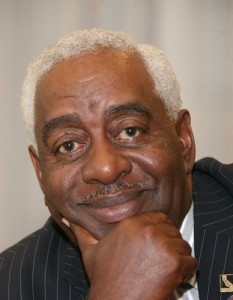 Every year the CBCC hosts its annual Ron Brown Business & Economic Summit, named in honor of the late politician who became the first African American to Serve as Chairman of the Democratic National Convention. This year is its 17th year and the distinguished event for small business owners will be held in beautiful San Diego.
Stone proudly announced that the theme for this year's event is, "Your High Speed Ticket to $ucce$$."  The summit will include influential guests including legendary Los Angeles Laker and successful entrepreneur Earvin "Magic" Johnson, who will not only kick off this year's event as keynote speaker, but will be judging on a business panel similar to the hit television show, The Apprentice.
Other highlights will include exciting panel discussions on access to capital, the recently signed high speed rail legislation by Gov. Jerry Brown and its possible creation of more jobs for Californians, exhibits and plenty of networking.
Stone stresses that he would like attendees get excited about coming to this year's event in San Diego. Businesses can expect to hear presentations from top experts from around the country, where they will reap the benefits of gaining valuable information to help grow and sustain their businesses. The summit also allows African American entrepreneurs to educate themselves and become submerged in an environment with like-minded individuals. Most importantly, attendees will receive crucial financial insights and key business strategies, because as Mr. Aubry L. Stone puts it,  "We can't have any dumb business owners."
The Ron Brown Business & Economic Summit will be held from August 9th through the 11th at the DoubleTree Hotel. For additional details and registration, visit www.calbcc.org or contact (916) 463-0177.