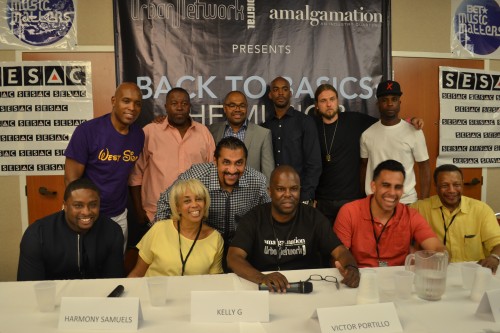 (San Diego, CA) That old saying, "It's not what you know it's who you know," is only half of what it takes to make it into the music-entertainment business, or any business.
According to successful individuals who have figured out a way to make "it" happen, most all would agree that effective power networking is key.
Following a five-year hiatus, Urban Network Digital President Arthur Mitchell and, Amalgamation Magazine Publisher David Mitchell (no relation) combined their resources and talent to bring back the successful "Back To Basics Music-Entertainment Summit.   Originally known during the early nineties as the Power Jam Conference, the goal of the summit is to regain connection and to remain committed to the independent music industry.
This year, hosted in San Diego at the Four Points by Sheraton the conference is an informal event, which teaches aspiring artist how to leverage key contacts at a music conference.
The event kicked off on Thursday, May 1 beginning with Gospel Day, Co-hosted by San Diego based CEO of MANDATE Records Leonard  J. Thompson, III.  The day was filled with Gospel music panel sessions and ended with several talented local artist who shined, including performances by: Eddie Baltrip and Fulfillment, Men4Christ and, Laneé Battle.
Other performances included : Grammy Award and multi-Stellar Award nominated recording artist, Brent Jones and Season 2 BET's Sunday Best runner up Jessica Reedy, both whom gave powerful performances during Gospel night.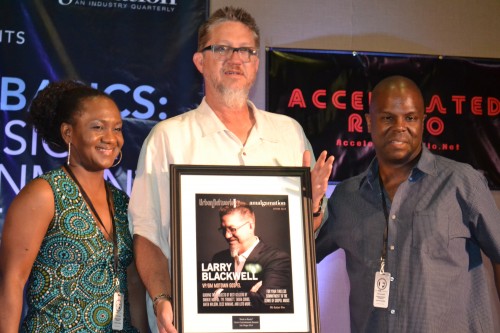 Another San Diego native and  outstanding performer was Mariea Antoinette, world renowned harpist who performed on Saturday evening.
The event was filled with a wealth of knowledge from hard hitting power house industry professionals, (who refused to sugarcoat anything in the business) in a variety of relevant and informative panels including: Gospel Power and, Gospel Meets the Digital World, Licensing and Music, Financing Your Career, Indie Label Forum on the Hustle of the Music Industry (Moderated by Arthur Mitchell,) The State of R&B Music (Moderated by Gail Mitchell, Sr. Editor, Urban Music, Billboard Magazine,) Hip Hop, performances, movie screenings and much, much more.
The list of esteemed panelist included industry professionals and recording artist including: Larry Blackwell, VP, General Manager/Motown Gospel, Ethiopia Habtemariam, President Motown Records and Head of Urban Music, Universal Publishing, Leonard J. Thompson, III CEO of MANDATE Records, Jessica Reedy, Gospel Recording Artist ( BET's Sunday Best, Season 2 runner up,) D'wayne Wiggins of Grammy Nominated group Tony! Toni! Toné! (Brother of  Award winning artist Raphael Saadiq and who  also discovered Beyonce,) Iconic Grammy Nominated Producer Kashif (Who's worked with the late great Whitney Houston,)  Midi Mafia aka Waynne Nugent and Kevin Risto (Who's worked with 50 Cent, Jennifer Lopez, Brandy and Fantasia and John Legend) Harmony Samuels, Record Producer, Composer (Who's produced for Neyo, Ariana Grande, Chris Brown and Fantasia Barrino and more), Kelly G of BET Network and Julian Petty, Entertainment Attorney (Representing clients such as; Billy Ray Cyrus, Ludacris and NeNe Leakes) and the list goes on.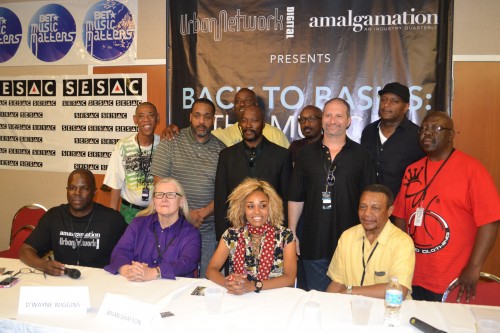 On Saturday evening, a night of awards featuring performances by Tony! Toni! Toné!, were given out to summit honorees:   Motown Records President, Ethiopia Habtemariam, Kelly G. Sr. Director Music Supervision, BET Networks, Larry Blackwell, VP, General Manager Motown Gospel, Leonard Thompson President, CEO MANDATE Records and more.
The summit concludes on Sunday, May 4th with a Smooth Jazz Brunch with special performances by multi-talented musician Norman Connors and saxophonist Kim Waters.
In the future, this is one Music-Entertainment Summit you won't want to miss.
For more information on Back To Basics: The Music and Entertainment Summit 2014 visit www.urbannetworkdigital.com.
Check out photos from the summit below.