Sad news in the world of sports today, baseball Legend Tony Gwynn has passed away at the age of 54.  
A class act on and off the field Hall of Famer Gwynn, had been battling cancer since 2010, when he had an operation to remove cancerous lymph nodes from his parotid gland. He later had surgery to remove a malignant tumor from the inside of his right cheek in 2012 and recently had to take a leave of absence from coaching San Diego State due to his cancer treatments.
He became SDSU's head baseball coach after he retired from the Padres.
Gwynn attended San Diego State University where he played both,  college baseball and basketball.  The home field for the San Diego Aztecs team was renovated and the stadium was named in honor of  Tony Gwynn.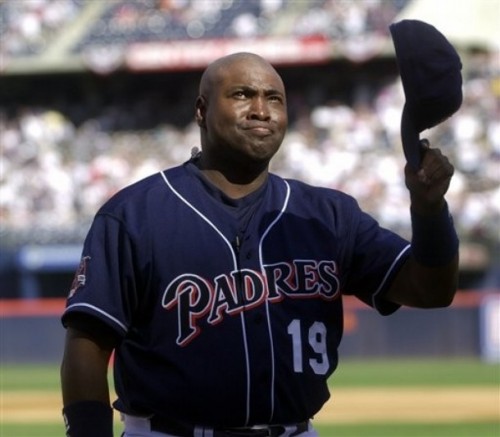 He had stated in past interviews that he believes the cancer was caused by years of chewing tobacco.
During his playing career, Gwynn was one of the best contact and average hitters in MLB history. He was an eight-time batting champion who hit .338/.388/.459 (132 OPS+) with 3,141 hits in his career. In 10,232 career plate appearances, he only struck out 434 times.
A 15-time All-Star, Gwynn led the league in hits seven times. He also won five Gold Gloves and seven Silver Sluggers. His .338 career batting average ranks 20th in MLB history. He's 19th in hits and his 543 doubles rank 28th in MLB history.
Gwynn played in two World Series for the Padres, in 1984 and 1998.
Though he never won MVP, Gwynn finished in the top 10 of MVP voting seven times.
Gwynn is survived by his wife, Alicia, son, Tony Jr., and daughter Anisha Nicole.