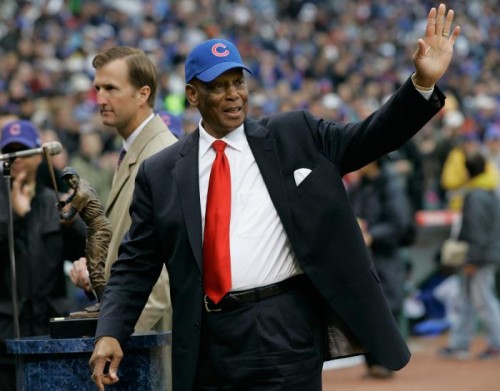 Ernie Banks, who became the first black player for the Chicago Cubs during his remarkable lifetime, died Friday, his wife, Liz, confirmed for the Chicago Tribune. He was 83.
He entered the Negro League Baseball in 1950, playing for the Kansas City Monarchs.  He served in the US military for two years and returned to the Monarchs before beginning his major league career in September 1953.
Most familiar as "Mr. Cub,"  Banks, was the first African American to play for the Chicago team, making his debut Sept. 17, 1953. He "went on to become an 11-time All-Star and two-time National League Most Valuable Player (1958-59),"  according to the Chicago Tribune .
President Barack Obama and first lady Michelle Obama released a statement early Saturday on Banks' death.
"Michelle and I send our condolences to the family of Ernie Banks, and to every Chicagoan and baseball fan who loved him," the statement reads. "Ernie came up through the Negro Leagues, making $7 a day. He became the first African-American to play for the Chicago Cubs, and [his was] the first number the team retired. Along the way, he became known as much for his 512 home runs and back-to-back National League MVPs as for his cheer, his optimism, and his love of the game. As a Hall-of-Famer, Ernie was an incredible ambassador for baseball, and for the city of Chicago. He was beloved by baseball fans everywhere, including Michelle, who, when she was a girl, used to sit with her dad and watch him play on TV. And in 2013, it was my honor to present Ernie with the Presidential Medal of Freedom. Somewhere, the sun is shining, the air is fresh, his team's behind him, and Mr. Class—"Mr. Cub"—is ready to play two."
Banks received a great deal of recognition and awards for his work. After hitting 512 home runs and scoring 1,636 RBIs, he was inducted into the Baseball Hall of Fame in 1977.
He was awarded the Presidential Medal of Freedom in recognition of his goodwill.
Banks is survived by his wife, Liz. Since hearing the news of his death, fans have been stopping by Wrigley Field to drop off baseball memorabilia, candles, and flowers.