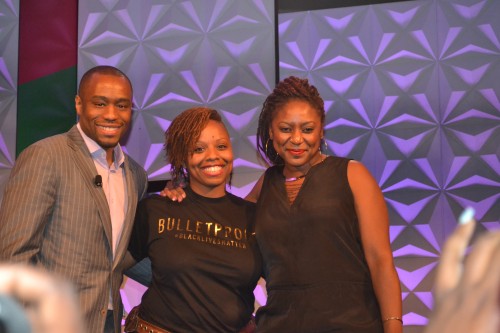 The 2015 BET Awards may have had all of the flashy, red carpet celebrity glam.  But, the real stars made their presence heard as panelist, at the BET Experience Genius Talks.
Introduced by Access Hollywood's Shaun Robinson, and moderated by Dr. Marc Lamont Hill, the topic of conversation was on the importance of the #BlackLivesMatter movement, that was part of a series of talks hosted by BET, during the network's weekend of activities leading up to its Sunday awards show.
Co-Founders of movement, Alicia Garza, alongside Patrisse Cullors, discussed with the audience including 30 members of BlackLivesMatter Los Angeles chapter, the inspiration behind creating the Black Lives Matter slogan after going onto social media is response to the Trayvon Martin murder trial.
Cullors commented on getting the question from other on why not #AllLivesMatter vs. #BlackLivesMatter.  Her response was this:
"If all lives mattered, then we wouldn't have to say black lives matter," Cullors said. "There's an obsession with decentralizing blackness, and I think All Lives Matter is a clear opening to people's racism."

"When we deal with the conditions of black folk, then we understand that black people's liberation creates the potential for everybody's liberation," Garza said.
On Sunday evening, actor Michael B. Jordan (Fruitvale Station and Friday Night Lights) acknowledged the movement in powerful speech at the annual award show.
"Every year, at the BET Awards, we shine a light on individuals who make extraordinary contributions to our community, but this year we're going to shine a light in a different way. Tonight, we shine a light in honor of the many men, women, and children who stood up, held signs, marched, took to social media, got arrested, or even laid down in protest as a part of the Black Lives Matter movement. We are shining a light on all of you. We are shining a light on the people of Ferguson, Baltimore, New York, Los Angeles, Cleveland, Oakland, North Charleston, South Carolina, and McKinley, Texas, and everywhere else in this country where we've had to find the strength to fight through the sorrow of losing innocent lives while simultaneously demanding the justice we so richly deserve.

BET is shining a light on you, for taking to the streets, insisting that Black Lives Matter, and being a constant reminder that we are not yet where we intend to be. Black Lives Matter. You matter. We see you, and we applaud your unbreakable, unshakeable strength.
Thank you #BlackLivesMatter.