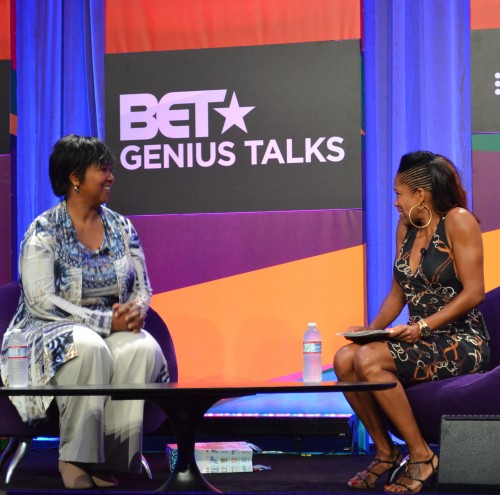 BET NETWORKS and AEG announced panelists for the 2015 "Genius Talks" series sponsored by AT&T taking place at the BET Experience @ L.A. LIVE presented by Coca-Cola.
Top industry icons including Floyd Mayweather, Kobe Bryant, Janelle Monae, George Clinton and more will take part in the series of thought provoking discussions on successes, personal challenges and top world issues on Saturday, June 27, 2015. The day will kick off as director Gina Prince-Bythewood (Love & Basketball, Beyond The Lights), producer Mona Scott Young (Love & Hip-Hop Series), actress Nicole Beharie (42, Sleepy Hollow), and writer/producer Mara Brock-Akil (The Game, Being Mary Jane) join comedian and host of Comedy Central's The Nightly Show, Larry Wilmore for a look at the powerhouse role of Black women in Hollywood.
Later during the afternoon, Floyd Mayweather sits down to discuss the media frenzy surrounding his recent May 2015 defeat of Manny Pacquiao, while fellow singer/songwriters Janelle Monae and George Clinton join to explore musicianship with industry executive Reggie Osse.
To conclude the program, NBA star Kobe Bryant will sit down for an intimate conversation with ESPN's Jemele Hill to reveal his successes, goals and future in Kobe Unplugged. The BET "Genius Talks" series sponsored by AT&T will take place at the Los Angeles Convention Center, adjacent to L.A. Live, on Saturday, June 27, from 3:00 p.m. PT – 7:00 p.m. PT.
Source:  Press release
For more information on the upcoming BET Experience click here.