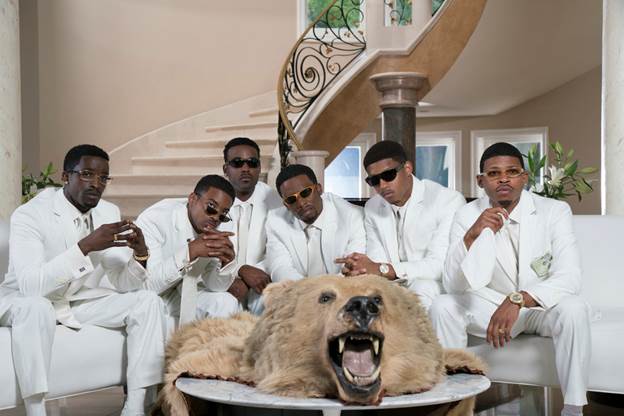 New York, NY – September 27, 2016 – BET has just announced that the network will air THE NEW EDITION STORY as a six hour, three night event on January 24, 25, and 26, 2017. The much-anticipated biopic will bring to life the story of the group that laid the foundation for how modern-day boy bands look, feel, and sound. Boyz II Men, N'SYNC, The Backstreet Boys, and New Kids On The Block all took their cues from New Edition, the famed band that included Ronnie Devoe, Bobby Brown, Ricky Bell, Mike Bivins, Ralph Tresvant and Johnny Gill who, for over the last three decades, have consistently produced hit music as a band.
The biopic follows the group from their humble beginnings as kids in Boston to global mega stardom – weathering the highs and lows of controversy, personnel changes, and the ultimate cost of fame.
To celebrate the announcement of the release dates, BET has additionally released a first look clip from the film which can be viewed HERE.
"From our beginning in the Orchard Park Projects in Boston to Hollywood and everything in between, just like The Temptations and The Jackson Five—we are ready to retrace our footsteps and show everyone how we got here. For the fans all over the world, this one's for you," says New Edition.
The biopic includes a star-studded cast:
Bryshere Y. Gray (Empire)will play Michael Bivins as an adult and Dante Hoagland (Emelie) will play Michael as a child.
Elijah Kelley (The Wiz Live!)will play Ricky Bell as an adult and Caleb McLaughlin (Stranger Things) will play Ricky as a child.
Grammy®-nominated singer/songwriterLuke James will play Johnny Gill.
Algee Smith (Let It Shine) will play Ralph Tresvantas an adult and Jahi Winston (Feed The Beast) will play Ralph as a child.
Keith Powers (Straight Outta Compton) will play Ronnie Devoeas an adult and Myles Truitt will play Ronnie as a child.
Woody McClain (Autographs)will play Bobby Brown as an adult and Tyler Williams will play Bobby as a child.
Additional cast members include Wood Harris (The Wire, The Breaks), Michael Rapaport (Boston Public, Justified), Faizon Love (Real Husbands of Hollywood), Duane Martin (Real Husbands of Hollywood), singer/songwriter Tank, and Bre-Z (Empire) along with La La Anthony (Power), Yvette Nicole Brown (Community), Monica Calhoun (The Best Man), Lisa Nicole Carson (Ally McBeal) and Sandi McCree (The Wire).
THE NEW EDITION STORY is written by Abdul Williams (Lottery Ticket) and executive produced by Jesse Collins (Real Husbands of Hollywood) for JCE Films, a division of Jesse Collins Entertainment. The film is directed by Chris Robinson (ATL) and co-produced by NEW EDITION's longtime manager and original choreographer Brooke Payne, as well as all six of the members of NEW EDITION, Ricky Bell, Michael Bivins, Ronnie DeVoe, Johnny Gill, Ralph Tresvant and Bobby Brown.