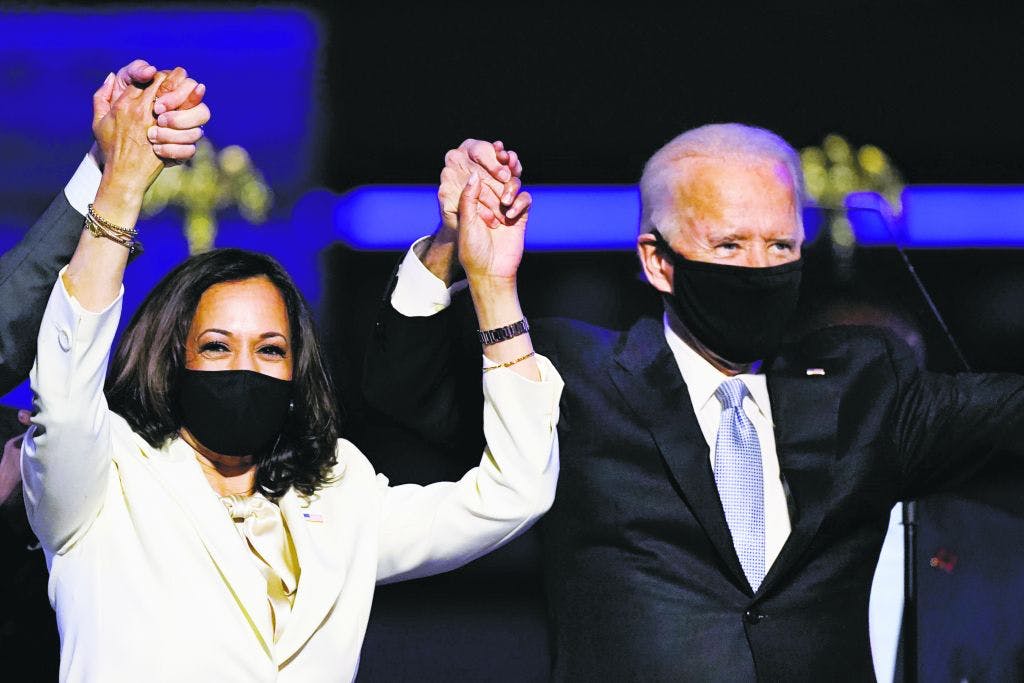 The wait is finally over. Former Vice President, now President-elect Joe Biden and running mate Vice President-elect Kamala Harris, are headed for the White House in January.
It's safe to assume that most of America lost a weeks worth of sleep agonizing over whether or not, the United States would have a new president or endure four more years under the leadership of Donald J. Trump.
For some, it's still hard to believe that the race was so close, considering the big push to get the vote out early and to increase voter registration. 71 million people voted for Trump and 75 million voted for Biden, turning traditionally red states like, Arizona and Georgia blue, and in the heart of a pandemic which failed under Trump's leadership. Speaking of Georgia turning blue, the state had a huge voter turnout, inspired by Stacey Abrams and community organizers who hit the ground running early to make sure folks get out and vote, resulting in the Democrats outpolling Republicans.
It goes without saying, the more people who vote, the better democracy works.
Abrams became a household name when she ran a remarkable campaign for governor of the State of Georgia, and lost by a narrow margin to Brian Kemp.
Early during the evening, of November 7, when the southern and some mid-western states with a lower number electoral votes being to project Trump as winning, democrats began to fear the possibility of enduring another four years of the Trump Whitehouse.
After a long few days of waiting for results, the race was finally called over the weekend. Biden reached the threshold needed to win with a projected 279 votes in the Electoral College, thanks to Philadelphia, who showed up in a big way. This was a historic election that drew a record number of voters even as a global pandemic worsened alongside it. Both Biden and President Donald Trump received more popular votes than any other candidate ever. For Biden, the third time's a charm.
Because this was his third run for president after going for it in 1988 and 2008. Biden made a name for himself as Delaware's longest-serving senator and as VP for former President Obama's two terms. He campaigned this time on a number of issues, including combating COVID-19, expanding the Affordable Care Act, and passing the Equality Act to ban discrimination against the LGBTQ+ community.
Now who's speaking. That's right it's Vice President-elect Kamala Harris, who has the final word. She made history as the first woman, first Black person, and first South Asian American to hold the VP title. She's also the daughter of immigrants. And a US senator repping California since 2017. To add to the historic nature of this win: it comes in the same year as the 100th anniversary of the ratification of the 19th amendment, which gave women the right to vote. After over 200 years after the US's first presidential election, and 100 years after women were given the right to vote and 400 years of slavery, we're finally going to see a female VP. Harris spoke on Saturday and praised the many diverse women who helped pave the way for her to break a centuries-old glass ceiling.
Harris is walked out in a cream colored pant suit, to the sound of Mary J. Blige in the background had this to say.
"While I may be the first woman in this office, I will not be the last."
"All those who supported us, I am proud of the campaign we built and ran. I am proud of the coalition we put together: Democrats, Republicans, independents, progressives, moderates, conservative, young, old, rural, suburban, gay, straight, transgender, Native American.

I mean it: Especially in those moments when the campaign was at its slowest, the African American community stood up again for me. You all had my back, and I will have yours.

I said at the outset I wanted to represent this campaign, to make it look like America. We have done that. For all those of you who voted for President Trump, I understand the disappointment tonight. I lost a couple times myself. Now, let's give each other a chance. "
Said Joe Biden in his acceptance speech.
So there you have it, Biden-Harris is in the house and theyve already have started working on a corona virus task force!
And to that end, we're all still waiting to hear president Trump's concession speech.
Congratulations, President-elect Biden, and Vice President-elect, Kamala Harris., the first female vice president in U.S. HIstory.