In my last column, we opened the wine book on the beautiful wine country of Sonoma and stretched our legs at Jordan Winery, the 1,200 acre Bordeaux style winery and vineyard just north of Healdsburg.  This week we'll make a few more stops.
I stood and soaked in the scene in the middle of the Town Plaza of Healdsburg, a small village of wine bars, tasting rooms and restaurants that presents the epitome of farm-to-table dining from the nearby countryside.  From my vantage point I counted 22 such establishments within a few blocks.  The newest and most fascinating was PARTAKE by KJ, an exploration of wine and food at the table, with signature Kendall-Jackson wine selections, matched with signature plates from their local farms.
Diners are treated to an introductory "blind tasting" in a black glass and asked to identify the mystery varietal.  The debate rages on as clues come to the rescue from wait help.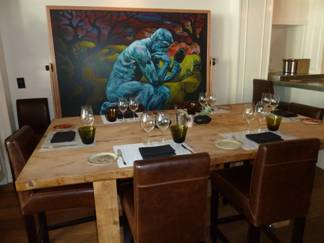 The basis of PARTAKE is the extraordinary four-season garden just outside the Kendall-Jackson Wine Center, some 10 miles south of Healdsburg, off the 101.  Founder Jess Jackson was a farmer in the midwest and always considered his vineyards to be farmland.  This garden is now a kind of sensory laboratory as well as a provider of fresh vegetables and fruits.  From heirloom tomatoes to a wide range of herbs and fruits, plantings come from all over the world.
Jim Cutcher is the Certified Wine Educator at Kendall-Jackson and loves to take guests through the gardens and KJ model vines that have sample varietals from each of the major wines of the world.
"We have 13,000 acres under vine on 37,000 total acres, in 28 different appellations, from Mendocino to Santa Barbara," he said.  "We believe in wines that can be enjoyed right away. We have been making Kendall-Jackson wines along the coastal areas since 1982. Our #1 seller is Vintners Reserve Chardonnay.  It's also the #1 Chardonnay seller nationwide," he declared. "We don't orchestrate our Chardonnay.  It's all barreled in stainless steel with no malolactic fermentation for a simple, natural wine flavor," he added.
North on the 101, past Healdsburg and just before Geyserville, is the festive, colorful Francis Ford Coppola Winery.  Purchased by the movie director in 2006, Coppola liked it for its wine production facilities and its full-service restaurant.  He would bottle his premium wines from Napa Valley, and  his budget wines from Sonoma.  He converted the restaurant into RUSTIC, a family style Italian restaurant full of his family's favorite recipes.  Then, the big idea came.  He would take out the fountains and grassy entrance and place a daytime resort with a huge pool, cabanas, kids play area and bocce ball courts.  The resort would also include wine sales, movie memorabilia and tasting rooms.  The day I visited, the reserved areas and cabanas were sold out for the season.  The Coppola "Diamond Collection" is his biggest seller, making up 80% of sales.  If you enjoy Italian food, try the Rigatoni and Meatballs with Spinach.  It's "just like mama made."
Frank Mangio is a renowned San Diego wine connoisseur certified by Wine Spectator.  He is one of the leading wine commentators on the web.  View and link up with his columns at www.tasteofwinetv.com.  Reach him at [email protected].