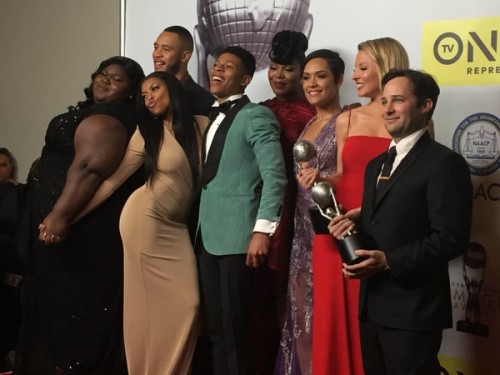 On Saturday, Feb. 5, the 47th annual NAACP Image Awards were held at the Pasadena Civic Auditorium. Actor Morris Chestnut who interviewed on the red carpet said it best what the award show represents, "We are here to celebrate us, for doing what we do best."
Anthony Anderson (Black-ish) reprised his role as host of the event, where during the opening ceremony a performance from the critically acclaimed "Straight Outta Compton" starring Anderson as lead rapper was hysterical, and a perfect introduction to a magical night celebrating #Black Excellence.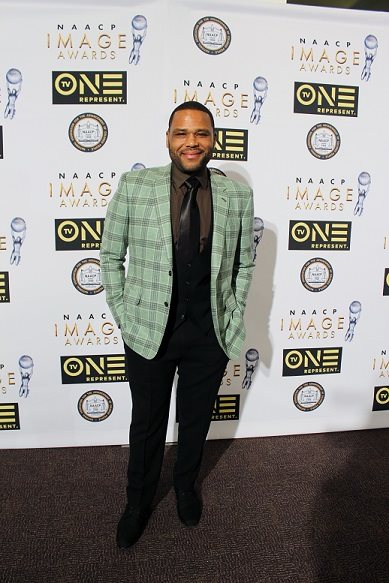 The star studded event was created by NAACP Hollywood Branch, making the NAACP Image Awards the nation's premier event celebrating outstanding achievements and performances of people of color in film and television, music and literary achievements. the arts, where members of the American National Association for the Advancement of Colored People, honor outstanding people of color in films, music, books and television shows.
Several of Hollywood's most famous faces from the cast's of "Empire" including: Taraji P. Henson and Terrence Howard to "Black-ish" stars Anthony Anderson and Tracee Ellis Ross and films "Straight Outta Compton" and Creed star Michael B. Jordon walked away with high honors this year.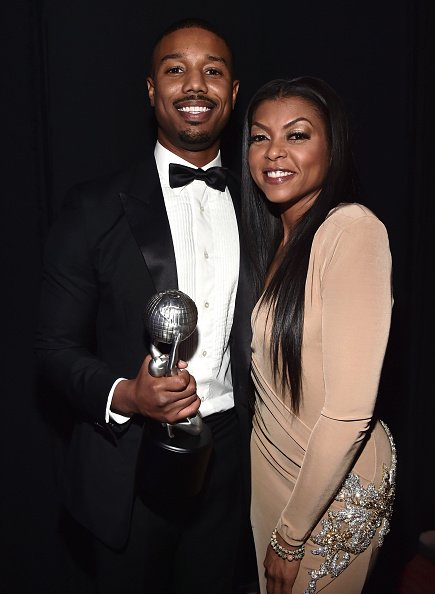 This year the Chairman of the NAACP National Board of Directors, Roslyn M. Brock, presented the prestigious Chairman's Award to individuals and organizations who have used their distinct platforms to be agents of change. The recipients are Brittany "Bree" Newsome; Justice League NYC; Concerned Student 1950 Collective at the University of Missouri, Columbia; The University of Mississippi NAACP College Chapter; Rev. Dr. Otis Moss III; Rev. Dr. Howard-John Wesley; Rev. Dr. Jamal Harrison Bryant, and Jussie Smollett.
Check out a complete list of winners from the 2016 NAACP Image Awards below:
Outstanding Comedy Series
"Black-ish" (ABC)Outstanding Actor in a Comedy Series 
Anthony Anderson – "Black-ish" (ABC)Outstanding Actress in a Comedy Series 
Tracee Ellis Ross – "Black-ish" (ABC)Outstanding Drama Series
"Empire" (FOX)Outstanding Actor in a Drama Series
Terrence Howard – "Empire" (FOX)Outstanding Actress in a Drama Series
Taraji P. Henson – "Empire" (FOX)Outstanding Motion Picture
Straight Outta Compton (Universal Pictures)Outstanding Actor in a Motion Picture
Michael B. Jordan – Creed (Warner Bros. Pictures/Metro-Goldwyn-Mayer Pictures)Outstanding Actress in a Motion Picture
Sanaa Lathan – The Perfect Guy (Screen Gems)

Entertainer of the Year
Michael B. Jordan

Outstanding Supporting Actor in a Comedy Series
Mike Epps – "Survivor's Remorse" (Starz)

Outstanding Supporting Actress in a Comedy Series
Marsai Martin – "Black-ish" (ABC)

Outstanding Supporting Actor in a Drama Series 
Joe Morton – "Scandal" (ABC)

Outstanding Supporting Actress in a Drama Series
Regina King – "American Crime" (ABC)

Outstanding Television Movie, Mini- Series, or Dramatic Special
"The Wiz Live!" (NBC)

Outstanding Actor in a Television Movie, Mini- Series, or Dramatic Special
David Alan Grier – "The Wiz Live!" (NBC)

Outstanding Actress in a Television Movie, Mini- Series, or Dramatic Special
Queen Latifah – "Bessie" (HBO)

Outstanding News/Information (Series or Special)
"Unsung" (TV One)

Outstanding Talk Series 
"The Talk" (CBS)

Outstanding Reality Program/Reality Competition Series
"Welcome to Sweetie Pie's" (OWN)

Outstanding Variety (Series or Special) 
"Family Feud" (Syndicated)

Outstanding Children's Program 
"Doc McStuffins" (Disney Junior)

Outstanding Performance by a Youth (Series, Special, Television Movie or Mini-Series)
Marcus Scribner – "Black-ish" (ABC)

Outstanding Host in a News, Talk, Reality, or Variety Program (Series or Special) – Individual or Ensemble 
Steve Harvey- "Family Feud" (Syndicated)

Outstanding New Artist
Jussie Smollett (Columbia Records)

Outstanding Male Artist
Pharrell Williams (Columbia Records)

Outstanding Female Artist
Jill Scott (Atlantic Records)

Outstanding Duo, Group or Collaboration
"Conqueror" – "Empire" cast feat. Estelle & Jussie Smollett (Columbia Records)

Outstanding Jazz Album
"Miles Davis at Newport 1955-1975: The Bootleg Series Vol.4" – Miles Davis (Columbia Legacy Recordings)

Outstanding Gospel Album (Traditional or Contemporary)
"It's Personal" – Tina Campbell (Gee Tree Creative)

Outstanding Music Video
"Shame" – Tyrese Gibson (Voltron Recordz)

Outstanding Song – Traditional
"Back Together" – Jill Scott (Atlantic Records)

Outstanding Album
"Woman" – Jill Scott (Atlantic Records)

Outstanding Song – Contemporary
"You're So Beautiful" – Empire Cast feat. Jussie Smollett & Yazz (Columbia Records)

Outstanding Literary Work – Fiction
Stand Your Ground – Victoria Christopher Murrary(Touchstone)

Outstanding Literary Work – Nonfiction 
Spectacle: The Astonishing Life of Ota Benga – Pamela Newkirk (HarperCollins/Amistad)

Outstanding Literary Work – Debut Author 
The Fishermen – Chigozie Obioma (Little, Brown & Company)

Outstanding Literary Work – Biography/Autobiography
Between The World and Me – Ta-Nehisi Coates (Speigel & Grau)

Outstanding Literary Work – Instructional 
Soul Food Love: Healthy Recipes Inspired by One Hundred Years of Cooking in a Black Family – Alice Randall, Caroline Randall Williams (Clarkson Potter)

Outstanding Literary Work – Poetry
How to Be Drawn – Terrance Hayes (Penguin Books/ Penguin Random House)

Outstanding Literary Work – Children
Gordon Parks: How the Photographer Captured Black and White America – Carole Boston Weatherford (Author), Jamey Christoph (Illustrator) (Albert Whitman & Company)

Outstanding Literary Work – Youth/Teens 
X: A Novel – Ilyasah Shabazz with Kekia Magoon(Candlewick Press)

Outstanding Supporting Actor in a Motion Picture
O'Shea Jackson, Jr. – Straight Outta Compton (Universal Pictures)

Outstanding Supporting Actress in a Motion Picture
Phylicia Rashad – Creed (Warner Bros. Pictures/Metro-Goldwyn-Mayer Pictures)

Outstanding Independent Motion Picture 
Beasts of No Nation (Netflix)

Outstanding Documentary – (Film)
"The Black Panthers: Vanguard of the Revolution" (PBS Distribution/Firelight Films)

Outstanding Documentary – (Television)
"Muhammad Ali: The People's Champ" (BET)

Outstanding Writing in a Comedy Series
Kenya M. Barris – "Black-ish" – The Word (ABC)

Outstanding Writing in a Drama Series
Mara Brack Ali, Jameal Turner, Keli Goff – "Being Mary Jane" – Sparrow (BET)

Outstanding Writing in a Motion Picture (Television)
Lawrence Hill, Clement Virgo – "The Book of Negroes"(BET)

Outstanding Writing in a Motion Picture (Film)
Ryan Coogler, Aaron Covington – Creed (Warner Bros. Pictures/Metro-Goldwyn-Mayer Pictures)

Outstanding Directing in a Comedy Series
Don Cheadle – "House of Lies" – The Urge to Save Humanity is Almost Always a False Front for the Urge to Rule (Showtime)

Outstanding Directing in a Drama Series
John Ridley – "American Crime" – Episode 1 (ABC)

Outstanding Directing in a Motion Picture (Television)
Dee Rees – "Bessie" (HBO)

Outstanding Directing in a Motion Picture (Film)
Ryan Cooler – Creed (Warner Bros. Pictures/Metro-Goldwyn-Mayer Pictures.

Outstanding Character Voice-Over Performance (Television or Film)
Loretta Devine – "Doc McStuffins" (Disney Junior)