#MissingDCGirls is trending on social media out of frustration over lack of big media coverage for missing Black and Latina Girls. As of March 23, 2017, over a dozen Washington D.C. teens are missing from the nation's capital, police in that city say.  Finally, the issue has generated massive attention on social media as people are outraged that the media and police are downplaying missing D.C. teens.
Twitter had this to say: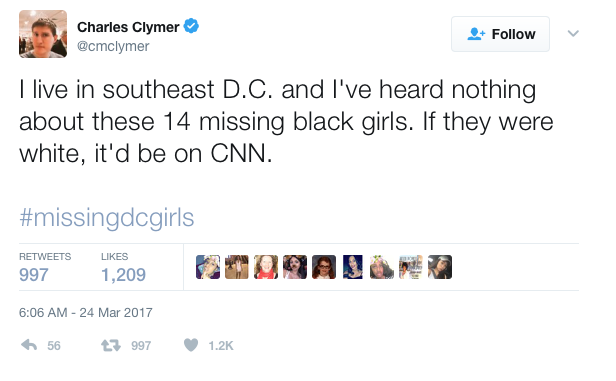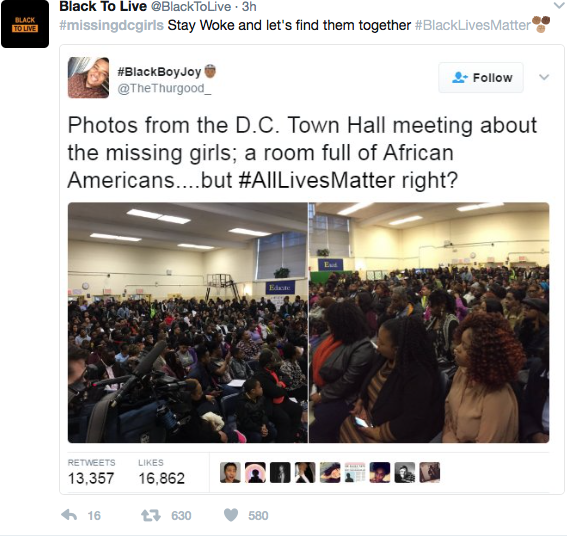 Sadly, black and latino girls like 16 year-old Talisha Coles, Dayanna Paz (14) or Dashann Wallace (15) don't get the same coverage as Natalee Holloway, Jaycee Dugard or Elizabeth Smart, who are all white.
The Congressional Black Caucus are calling on the FBI to investigate whether there is an increase in cases of missing black children and teens in the nation's capital. 
In a letter dated Tuesday, obtained by the Associated Press, Rep. Cedric Richmond, D-La., Del. Eleanor Holmes Norton, D-D.C., called on Attorney General Jeff Sessions and FBI Director James Comey to "devote the resources necessary to determine whether these developments are an anomaly or whether they are indicative of an underlying trend that must be addressed."
According to reports, the full names of the missing girls include: Yahshaiyah Enoch and Aniya McNeil, both 13; Juliana Otero, Jacqueline Lassey, Dashann Trikia Wallace, Dayana White and Morgan Richardson, all 15; and Talisha Coles, 16.
"Sometimes when girls of color are missing they are deemed 'runaways' and sometimes that prevents an Amber Alert from being sent out,"
Dr. Vanetta Rather, founder of the support group My Sister My Seed, told the group, according to the website.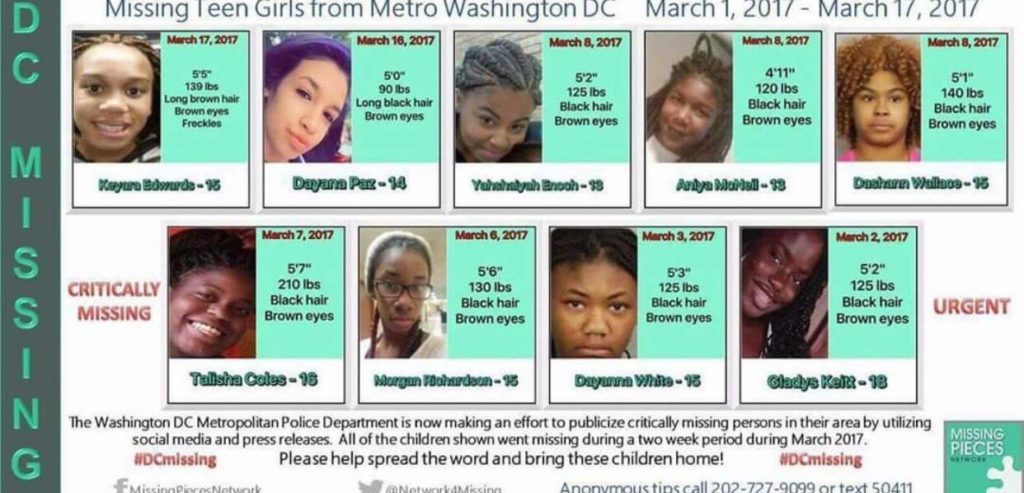 But the increased social media attention has caused concern in the U.S. capital area, which has long had a large minority population and is currently about 48 percent black.
Hundreds of people packed a town-hall style meeting at a neighborhood school on Wednesday to express concern about the missing children cases.
"Ten children of color went missing in our nation's capital in a period of two weeks and at first garnered very little media attention. That's deeply disturbing," Richmond's letter said.
Derrica Wilson, co-founder of the Black and Missing Foundation, said that despite the assurances from police, it was alarming for so many children to go missing around the same time.
On Tuesday night, she noted, her group had four reports of missing children and only one had been found.
"We can't focus on the numbers. If we have one missing child, that's one too many," Wilson said.
Wilson said she is concerned about whether human trafficking is a factor, citing the case of 8-year-old Relisha Rudd, who has been missing since she vanished from a city homeless shelter in 2014.
A janitor who worked at the shelter was found dead of apparent suicide during the search for the girl.
"They prey on the homeless, they prey on low income children, they prey on the runaways, they prey online," Wilson said.
Information from the National Crime Information Center showed there were 170,899 missing black children under 18 in the United States, more than any other category except for the white/Hispanic combined number of 264,443.
Both numbers increased from the year before, which saw 169,655 missing black children and 262,177 missing white/Hispanic children.