SAN DIEGO, CA-Via Press Release: On Friday, December 21, Black Ministers of  Non-profit organization, United African American Ministerial Action Council (UAAMAC), will Sponsor their fifth annual "Gift Card for Gun Exchange."
In an effort to reduce gun violence, the annual program offers gift cards for guns, NO Questions Asked!  Since the programs inception, hundreds of guns have been taken off the streets of San Diego.
Kicking off the event with a news conference at 8:00 am, the exchange will begin shortly thereafter at 8:30 am at 415 Euclid Avenue. Participants will receive, $50 for rifles and shotguns, $100 for hand guns and assault weapons.
One gift card per vehicle regardless the quantity of guns.
This years program is co-sponsored with elected officials and law enforcement including:  District Attorney, Bonnie Dumanis, San Diego City Council Member, Tony Young, San Diego Police Chief, William Lansdowne and, San Diego Sheriff, William Gore.
Donations to purchase Gift Cards are accepted until the time of the event.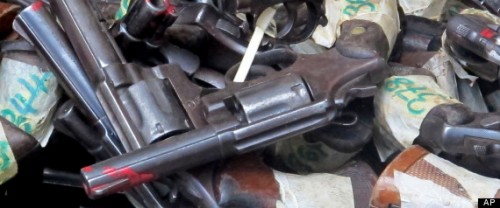 For more information CONTACT:  UAAMAC staff 619-264-1213 or 619-964-1064
Source:  Reverend Gerald Brown, UAAMAC