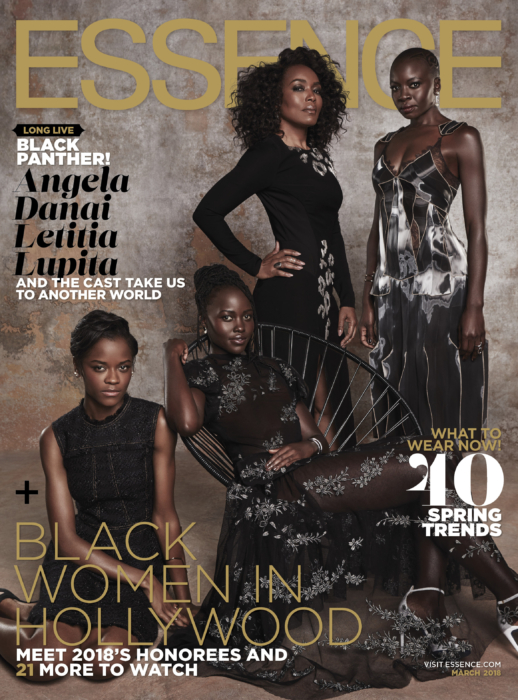 ESSENCE's March issue highlights the cast of the highly anticipated film Black Panther to take us to the incredible world of Wakanda—with three regal covers featuring stars Chadwick Boseman, Forest Whitaker, Michael B. Jordan, Daniel Kaluuya, Angela Bassett, Lupita Nyong'o, Danai Gurira and Letitia Wright.
In the article Watch the Throne, the cast and creatives expound on why this African fantasy feels very real.
DANAI GURIRA ON WHAT THE ROLE MEANT TO HER: "The idea of creating a scenario where you're seeing very powerful, empowered Africans is really thrilling to me, something my heart, soul and spirit yearned to see…"
LUPITA NYONG'O ON THE WONDER OF WAKANDA: "For me, as an African in this film, to walk on set and to see these incredible costumes and hairdos, these are the things I grew up seeing, but they've just been elevated to a fantastical place. We're going to experience the richness of the continent, because the continent is what has informed us of what Wakanda could be…"
ANGELA BASSETT ON PLAYING A QUEEN [Excerpt]: "When Angela Bassett received the call from [director] Coogler asking if she would play T'Challa's stepmother, Queen Ramona, she had never heard of the character. '…Just to have an opportunity to portray that image—me, a little Black girl from the Florida projects. Playing a queen was just unattainable, unavailable. Even in a fictitious world, a Black woman cannot be a queen,' she scoffs. 'Why can't I be?…'"
LETITIA WRIGHT ON THE IMPORTANCE OF THE FILM: "We understand the responsibility. That it can shift mind-sets. I can be a Black superhero. I can be a scientist. I'm a queen. I'm a young prince. It's not about me. It's bigger than me. It's bigger than all of us…"
FOREST WHITAKER ON THE GENIUS OF DIRECTOR RYAN COOGLER: "His films always have some message about the depth of humanity, bringing out the voices of people of color while finding the universal connection that brings us together as one…"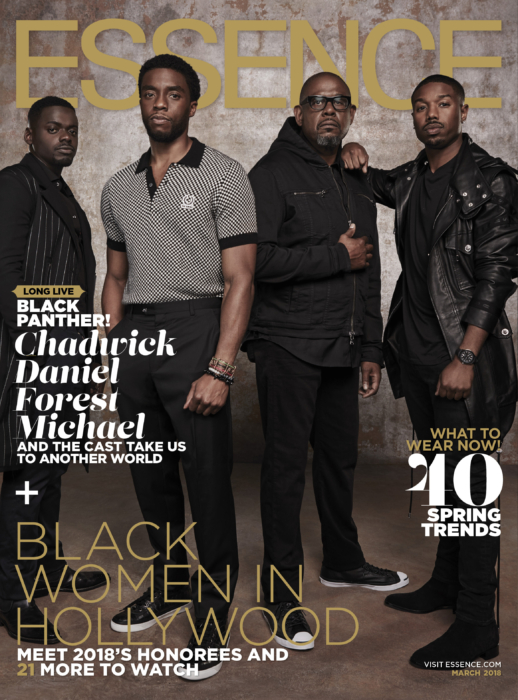 Plus, the annual Black Women in Hollywood issue features ESSENCE's 2018 honorees who shine beyond the screen—Danai Gurira, Tiffany Haddish, Lena Waithe and Tessa Thompson.
QUOTES FROM "BLACK WOMEN IN HOLLYWOOD":
Tiffany Haddish on Having Fun While Performing:"'When you're onstage, you need to be having fun.' That's the advice Richard Pryor gave me. No matter what I'm doing or where I am, I live by that philosophy…If I'm not having fun? Well, that's when I end up getting arrested!…"
Danai Gurira on Creating Opportunities for Women of Color:"Creating opportunities for Black women, women of African descent and other women of color is a big part of my mandate because I want us to shine. I understand that being on TV as Michonne [in The Walking Dead] and in films like 'Black Panther' helps Black girls feel validated. I don't take that lightly…"
Lena Waithe on Winning an Emmy and Telling Our Stories:"Being the first Black woman to win an Emmy for comedy writing was just…amazing, but I don't want to be the last. The award is bigger than me. It's about our industry, our society, taking a big leap forward. It's about my ancestors, the women comedy writers and queer communities of color. I shared that moment with them…"
 Tessa Thompson on Breaking New Ground With Her Roles:"I feel as if I'm breaking new ground and providing more representation for women of color around the globe. But even if it wasn't me, I'd still look at those projects and if I saw a woman who looked like me, I'd think, Wow!…"
The March issue of ESSENCE hits newsstands on 2/23-Photo Credit: Dennis Leupold