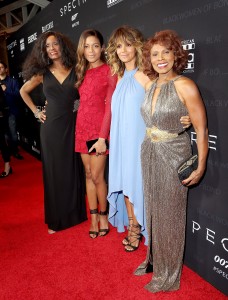 (LOS ANGELES) – November 4 2015 – In advance of the highly anticipated North American release of the 24th edition of the wildly popular James Bond (007) franchise, Metro-Goldwyn-Mayer Pictures, Columbia Pictures and Terry Hines and Associates' (THA) urban division partnered with the African American Film Critics Association (AAFCA) and ESSENCE Magazine to present a special event that celebrated the enduring legacy that black actresses have made to this groundbreaking, iconic franchise.
On November 3rd at the California African American Museum, the evening included the unveiling of exclusive portraits shot by renowned photographer Kwaku Alston of 007 veteran stars in attendance, Trina Parks (1971's Diamonds are Forever), Gloria Hendry (1973's Live and Let Die) and Naomie Harris (Skyfall, Spectre). Superstar and Academy Award Winner Halle Berry was on hand to discuss her appreciation for being a part of such an enduring legacy.  ESSENCE Magazine exclusively revealed their December cover at the event, a stunning feature of Naomie Harris, seen for the first time by the audience assembled.
A highlight of the affair came when Berry, Parks and Hendry discussed their experiences as Bond Girls, and lauded Naomie Harris for her role as Eve Moneypenny in the Bond series. Parks and Hendry were among the first women of color to be a part of the franchise, providing film history some if its most memorable moments. "James Bond films are known worldwide as classic and enduring, featuring some of cinema's most indelible moments. These films have a long history of recognizing diverse images, and black women have played a key part in that. These women carry the tradition with sophistication and beauty.  It is a true honor to shine a light on their contributions to cinema history," says AAFCA president, Gil Robertson IV. "We were tremendously excited to join this celebration."
"ESSENCE is proud to honor the talented women who are a part of this spectacular celebration," says Cori Murray, Entertainment Director for ESSENCE Magazine. "With their presence in the Bond franchise, each of these five icons have transformed the way Black women are seen around the world. We've been so proud of Naomie and thrilled to have her on our cover. We look forward to seeing her star continue to rise."
SPECTRE opens in the U.S. on November 6, 2015.