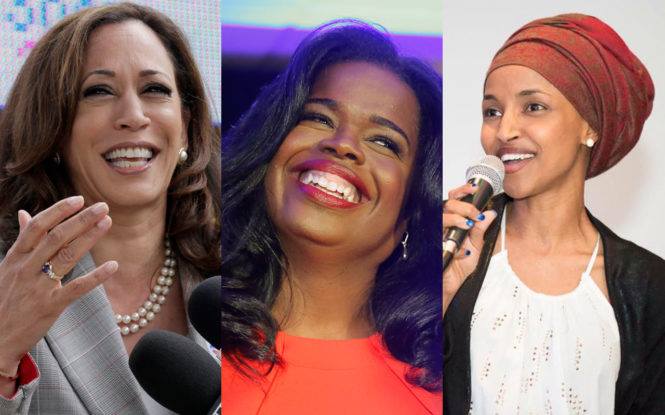 Black Women ran and won in 2016 at all levels of government and decisively shattered the glass ceiling on Tuesday night's election, reflecting their true, 23 million strong voting power.
Here's a brief rundown of Black women who came out winners in this week's historical election.
U.S. Senate California
Kamala Harris is the two-term Attorney General of California, Harris is the first woman, African American and South Asian to serve as Attorney General in California and will be the first African American and South Asian to represent California in the U.S. Senate. She won a decisive victory, garnering more than 2 million more votes than her opponent.
U.S. House of Representatives
Delaware At-Large
Lisa Blunt Rochester has served in the cabinets of two Delaware governors as Delaware's first African American woman Secretary of Labor, Deputy Secretary of Health and Social Services, and State Personnel Director. Blunt Rochester is now the first woman and person of color elected statewide in Delaware's history. She won a closely watched race 56 to 41.
U.S. House of Representatives
Florida, 10th Congressional District
Val Demings was Orlando's first female police chief. Demings ran for Congress in 2012 and narrowly lost to a conservative Republican, but because of redistricting under court order, the demographics of the district have shifted creating an opportunity for Demings to join in the 115th Congress, where there could be a record number of Black women serving at one time. She received a mandate to serve from voters receiving 65% of the vote.
State Representative,
Kentucky 41st Legislative District
Attica Scott, is a mother, an activist, and a community leader. Scott is a Community Coach with County Health Rankings & Roadmaps and previously a served as the District 1 representative to Louisville Metro Council. In the May Democratic primary, Scott defeated Tom Riner, a 34-year conservative Democrat who only attracted 31 percent of the votes in the state's 41st district. Scott, a relative underdog in the race, won with 54 percent of the votes. Scott was unopposed in the General Election and will be the first woman to serve in the Kentucky state legislature in 20 years.
State Representative
Minnesota, LegislativeDistrict 60B
Ilhan Omar is an experienced policy analyst, community educator and advocate. She currently serves as the Director of Policy Initiatives at Women Organizing Women, where she empowers East African women to take civic leadership roles in their community. Omar is now the first Somali-American Muslim woman ever elected in this country as she is sworn in to the Minnesota State House of Representatives.
Mayor
Baltimore
In 2005 Catherine Pugh was appointed to the Maryland General Assembly, House of Delegates, where she served for one year before running for her Senate seat in 2006. Pugh currently serves as the Majority Leader and serves as President of the National Black Caucus of State Legislators (NBCSL). Pugh won a hotly contested crowd field primary that included the City's former Mayor Sheila Dixon. Pugh will be Baltimore's third woman mayor when she is sworn in this January.
State's Attorney
Cook County, Illinois
Kim Foxx, most recently was the Chief of Staff for Cook County Board President Toni Preckwinkle and was an Assistant State's Attorney for Cook County for 12 years. Foxx won a closely watched primary over embattled incumbent State Attorney Anita Alvarez in March. Foxx's convincing victory with 71% of the vote makes her one of only a hand full of Black women that are State's Attorneys in the country.
Source: Kimberly Peeler Allen is co-founder of Higher Heights for America, a national organization exclusively dedicated to advancing political power for Black women.