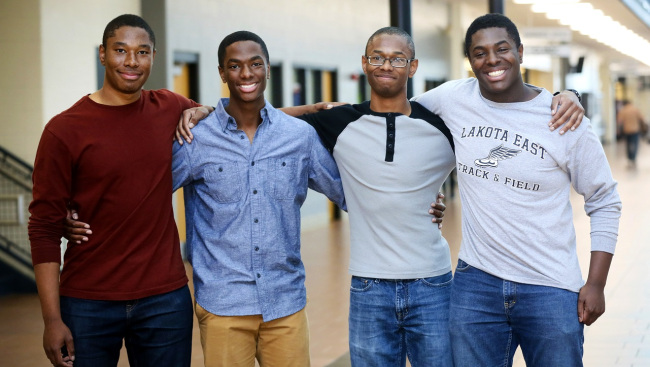 When Darrin Wade first discovered from an ultrasound that he and his wife were having quadruplets instead of twins, he knew that paying for school was going to be a challenge.
Boy oh boy, was he right.
All four of his now 18-year old sons— Aaron, Nick, Nigel and Zach of Lakota East High School in Ohio received acceptance letters to the prestigious Yale and Harvard University.
According to the Washington Post, just before track practice on Thursday (Mar. 30), the boys learned the good news.
Both schools had single-digit acceptance rates with Yale accepting only 2,272 of the 32,000 students who applied (7.1 percent), while Harvard only accepted 2,056 of the 39,000 who applied this year (5.3 percent), the Washington Post reports.
In addition to the two Ivy League schools that they applied to collectively, the Wade brothers also applied to other highly-competitive schools that best fit them, places they felt they could contribute to the most. Nick was accepted to Duke, Georgetown and Stanford. Aaron got into Stanford as well. Nigel locked in Johns Hopkins and Vanderbilt while Zach snagged Cornell. All the aforementioned schools, which were not the only schools to accept the young men, all have acceptance rates below 20 percent.
The boys current plans are to study international relations, economics, engineering, computer science, cognitive science and neuroscience.
Wherever the Wade brothers choose to go, we're celebrating right along with them, and praying for financial aid assistance to pour in.
Bravo to #BlackExcellence and to pure #BlackBoyJoy!
Pictured above: Lakota East seniors and quadruplet brothers from left, Zachary, Aaron, Nigel, and Nick Wade pose together at Lakota East High School, in Liberty Township, Ohio, Wednesday, April 5, 2017. All the brothers have been accepted at some of the nation's top universities, including each of them to both Yale and Harvard. (Greg Lynch /The Journal-News via AP)