On December 1st in a press release, The NAACP and TV One announced that Emmy-Award nominated actor, Anthony Anderson has signed a multi-year deal to continue as host for the 47th and 48th NAACP Image Awards.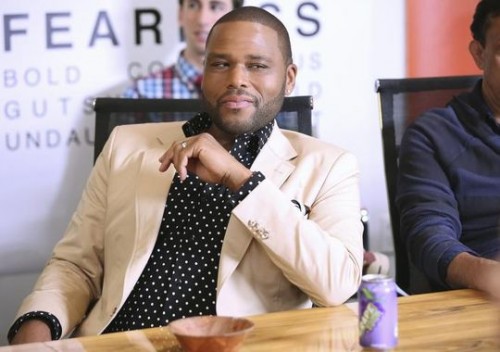 The 47th NAACP Image Awards will be nationally telecast live on TV One on Friday, February 5, 2016 as a two-hour special from the Pasadena Civic Auditorium.  The live telecast will also include a one-hour live pre-show from the star-studded red carpet.
"I look forward to the NAACP Image Awards each year! The NAACP Image Awards always delivers an epic evening with the best of the best across film, TV, music, and literature," said Anderson.  "It is a privilege and honor to be asked back to host for the next two years – there is no doubt that this year's show is going to be magnificent.  I may even have a few surprises up my sleeves!"
Anderson is one of today's most versatile and talented actors.  He currently executive produces and stars alongside Tracee Ellis Ross and Laurence Fishburne on the hit ABC series Black-ish, for which he won a NAACP Image Award for Outstanding Actor in a Comedy Series. He has also earned Emmy and People's Choice Award nominations for his role as Dre, a family man that struggles to gain a sense of cultural identity while raising his kids in a predominantly white, upper-middle-class neighborhood. Anderson has appeared in over 20 films including "Transformers" directed by Michael Bay and Martin Scorsese's Oscar winning feature "The Departed." He can next be seen in Barbershop 3. His performance on "Law & Order" earned him his fourth consecutive NAACP Image Award nomination for Outstanding Actor in a Drama Series for the 2010 season.  Anderson grew up in Los Angeles. While pursuing his acting career, he continued his education by attending the High School for the Performing Arts, where he earned first place in the NAACP's ACTSO Awards. That performance, along with his dedication to his craft, earned him an arts scholarship to Howard University.
The NAACP Image Awards celebrates the accomplishment of people of color in the fields of television, music, literature and film and also honors individuals or groups who promote social justice through creative endeavors.  The multi-cultural show is one of the most respected events of its kind and is well attended by many of the top names in the entertainment industry.