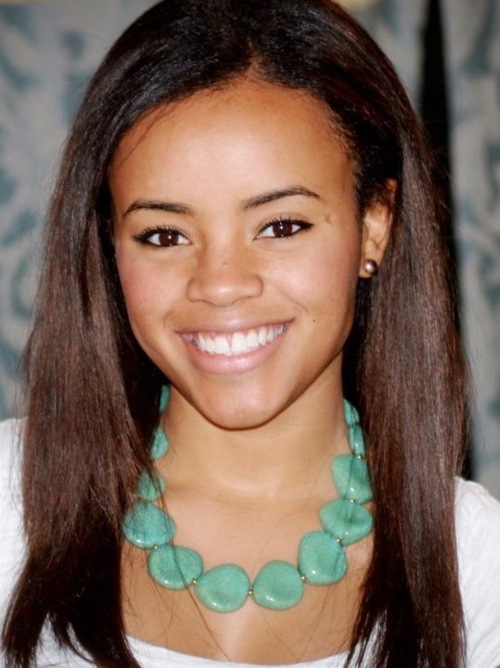 Some might question, why is TV One Making a film about Bobbi Kristina Brown? Is it too soon after her death? Is it exploitational? In answer to those questions and more, the cast and creative team of the film held a telemedia conference to discuss the importance in telling the story of the young girl's struggles beyond the headlines and fame of her parents, the late Whitney Houston, and her father Bobby Brown.
Those involved in the project all agree that  goal of the upcoming biopic is to humanize Krissy, the nickname given to Bobbi Kristina by her parents.   The main objective is to show audiences a rare glimpse into her world by telling her story through the perspective of her personal friends. Those who saw her outside of fame, as the daughter of two iconic parents, Whitney Houston and Bobby Brown.
The filmmakers behind the project include—Rhonda Baraka (Writer), Ty Hodges (Director), Tracey Baker-Simmons, (Executive Producer), D'Angela Proctor (SVP, Original Programming & Production) and, Ruby Greene Arrington, (VP of Original Programming), all agree that they took a very focused, very intimate approach to depicting a very specific time in Krissy's life. Everything in the film reflects how she likely saw it during this period—missing her mother Whitney, played impeccably by Demetria McKinney,  while being apart from her father, Bobby Brown, played vibrantly by Hassan Johnson.
Executive Producer, Tracey Baker-Simmons, a personal friend, who knew Bobbi Kristina at around 8 or 9, teared up during the call says that doing the film is how they all want to honor Krissy. "Her life beyond the headlines is life changing," she says. Krissy was not just the daughter of Whitney Houston, she can be anyone's child.
"One of the things that appease the most to me,  at the end of the day it's the story of a young girl that was looking for a boy to love her.  It is the quintessential love story gone wrong. And, To be honest, it could have been anyone.  She just happened to be Whitney Houston and Bobby Brown's daughter, which added another layer of complexity to the relationship she was seeking."
In terms of why the network is telling the story now, Proctor say that it poses a cautionary tale to young women in terms of the choices they make in relationships, and who they bring to a relationship and whether they bring their best self to a relationship. In that regard it's a universal story that can be told at anytime.
Jo Ravaris, plays the title role as Bobbi Kristina in her first lead role, says playing the role was eyeopening,  as to how in a relationship a person can get lost another person, namely a Nick Gordon.
"I want the world to know Krissy's sense of humor, her relationships, and to know that before she passed, she realized her self worth, and that she was enough."
Rounding out the cast is Vivica A. Fox, who plays Pat Houston, and Nadji Jeter as Nick Gordon.
Bobbi Kristin- A TV Onejjmk0 original movie premieres Sunday 7/6C on TVOne