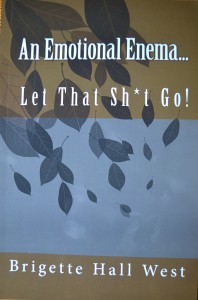 Don't you just love the title? In her debut self published book: An Emotional Enema…Let That Sh*t Go!  Author Brigette Hall-West is on a mission to detox, and she encourages the reader to do the same. 
Throughout 10 chapters of primarily self-help instruction, the book mainly focuses on the writers personal story of resilience. The author explains how holding on to unresolved baggage from the past can be damaging internally if not released.
Devastated after being left by her mother as a young child, Hall West shares how the void of not growing up with a biological parent, led her to become emotionally constipated. 
In her journey to let go of the past, Hall-West shifts back to her upbringing in a small town in deep East Texas.  Through her writing she reflects on her feelings of abandonment—choosing to become pregnant as a teenager by a much older man, only to be thrown into a cycle of unstable relationships. She explains how we internalize negative thoughts through our mental digestive system, which ultimately affects the outcome of our behavior.  
The chapters of the book are cleverly named–Chapter one is titled Ingestive, followed by a Jim Davis quote: "Avoid fruits and nuts. You are what you eat." 
The author's sense of renewed energy after she makes the decision to,"Let's that Sh*t Go, gives us all a valuable lesson on how not to hold in toxic thoughts, by cleansing. Hall West encourages the reader to do what it takes to move on, regardless of the pain of ingesting a damaging past.
About the Author:
Brigette Hall West grew up in Crockett, TX.  She received her B.S. in psychology from Sam Houston State University, an M.B.A. from University of Phoenix-Wisconsin, and is presently working towards her doctorate in psychology. Brigette has worked in the field of mental illness/health for 12 years and enjoys blogging about some of her adventures on her blog "Tales From the Mentally Ill." In her spare time she enjoys shoe shopping and fishing. This is her first published literary work.
An Emotional Enema…Let That Sh*t Go! Is available on Amazon.com.  Brigette Hall West can also be contacted on facebook at:  https://www.facebook.com/pages/An-Emotional-Enema/412086165478788