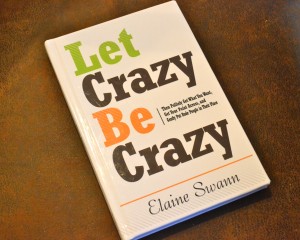 A little constructive criticism now and then won't hurt anyone, right? Rudeness, on the other hand, could hurt emotionally…that's if you let it (rudeness) get to you.
That explains why TV host Elaine Swann, one of America's leading experts on etiquette, says we all should just Let Crazy Be Crazy (W.S. Publishing), as shown by the title of her new book.
In the book, Swann crafts an 80-page self help guide outlining how to politely get what you want from rude people by gently putting them in their place.
Swann uses the word "crazy" to describe individuals who are socially defunct. The author humorously explores the motivations behind rudeness while giving examples of who qualifies as "crazy." To put it bluntly, Swann writes: "When we put our efforts into trying to get Crazy Folk to behave, the only thing we'll get in return is more Crazy."
There are many insightful quotes throughout this coffee table book that leave readers feeling empowered on how to handle themselves around rude people who throw unkind comments at others. Filled with inspiring annotations, this powerful handbook delivers 36 sensible steps on how to respectfully handle one's self in awkward social situations including:
How to gently say "no" when asked to donate money or time.
How to get the rude person at the ballpark to settle down.
How to deal with rude comments from family members.
How to respectfully tell a co-worker their breath smells bad.
Elaine Swann is president and CEO of Elaine Swann Enterprises a lifestyle brand company that develops etiquette-inspired products and coaching services, produces broadcast programming, and publishes books for everyday living.
Elaine Swann's advice has led her to be dubbed the "Etiquette Lady." She has been called upon by the TODAY Show, CNN Headline News, the STYLE Network, ABC, NBC, CBS, The CW and FOX. She's been featured on the radio and has been quoted in national magazines and countless newspapers across the country.  She is currently the host for the television talk show Oceanside Spectrum, which airs weekdays on KOCT Television.
To purchase a copy of Let Crazy Be Crazy visit: http://www.elaineswann.com/books-by-elaine-swann