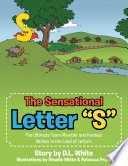 Why can't humans get along like the letters in the alphabet?
Author D.L. White shows many examples of how the letter "S" is the ultimate team player in his new children's book, The Sensational Letter "S" (Author House).
In his cleverly crafted, colorfully illustrated read, White introduces to young readers a play on words specifically using the letter "S." The storyline focuses on how the elder letters, W, Y and Z call meetings to show us how all letters of the alphabet share an important role in learning, however, it's the letter "S" that works overtime to build and multiply with other letters in creating new meanings through word building.
As a college professor, father of two daughter's, avid community and youth advocate, White intent is to increase reading, comprehension and word development. With that in mind, he challenges early childhood educators, parents, guardians, and those blessed with a youthful person in their lives to introduce effective, and age-appropriate literature into their child's life.  He says that, studies, as well as educational research, confirms students who read at and above their grade level usually perform much better in school and stay in school longer than those who read below grade level or not at all. Reading is fundamental and essential in building early academic self-esteem and laying a positive educational foundation that bridges into other academic disciplines, such as math, science and the arts.
Currently available through Barnes and Nobles and on Amazon The Sensational Letter "S" is a great tool for early education classrooms K through third grade.  D.L. White is currently working on his next book out of a series of 5, which will focus on using the context of vowels.