Friday, April 19, 2013, Silver Spring, MD – Representative Eddie Bernice Johnson of Texas; Author, Dennis P. Kimbro, Ph.D; Founder and CEO of Students First, Michelle Rhee; Chief Program Officer and EVP of the NAACP, Steven W. Hawkins and Executive Director and Co-Founder of The Brotherhood/Sister Sol, Khary Lazarre-White are among the guests on this week's Washington Watch with Roland Martin airing on TV One this Sunday, April 21 at 11 AM ET.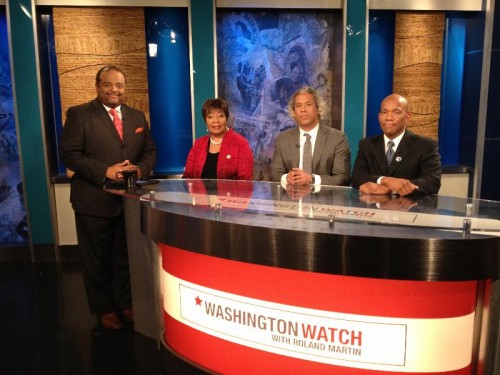 The journalist/commentator panel includes: Senior Correspondent for the Washington Times, Deborah Simmons; 2008 Vice Presidential Candidate for the Green Party, Rosa Clemente; Washington Correspondent for Aspire TV, Leila McDowell and Former Head of the Office of Faith Based and Neighborhood Partnerships in the White House under President Barack Obama, Joshua Dubois.
Topics explored during the hour include: the recent terror attack at the Boston Marathon; the impact of gun violence on children in the Black community; the need for educational reform to better support African Americans and students from low income households and new book, "The Wealth Choice," uncovers the secrets to becoming a millionaire.