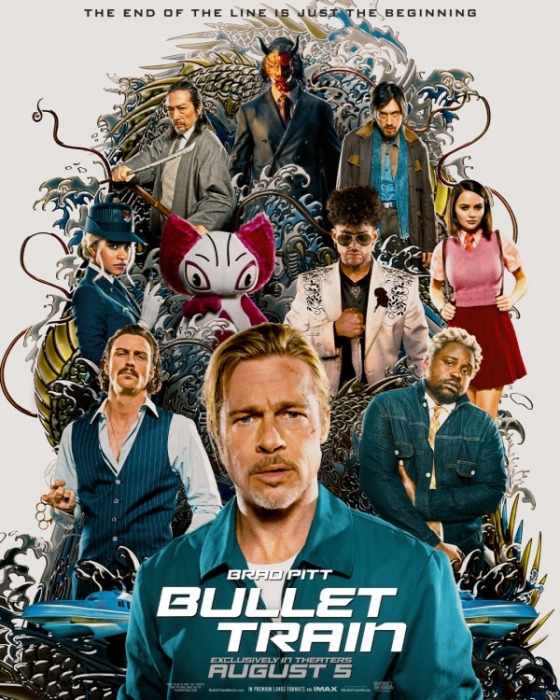 If you're anything like us here at The Chocolate Voice, you've been excitedly awaiting a new sneak peek for Sony's BULLET TRAIN, which premieres in theatres, August 5th!
Well the wait is over! Below is the new trailer
New Trailer Now Available for Download HERE!.
In Bullet Train, Brad Pitt stars as Ladybug, an unlucky assassin determined to do his job peacefully after one too many gigs gone off the rails. Fate, however, may have other plans, as Ladybug's latest mission puts him on a collision course with lethal adversaries from around the globe – all with connected, yet conflicting, objectives – on the world's fastest train…and he's got to figure out how to get off. From the director of Deadpool 2, David Leitch, the end of the line is only the beginning in a wild, non-stop thrill ride through modern-day Japan.
Directed by:
David Leitch

Screenplay by:
Zak Olkewicz

Based upon the book Maria Beetle by:
Kotaro Isaka

Produced by:
Kelly McCormick
David Leitch
Antoine Fuqua

Executive Producers:
Brent O'Connor
Ryosuke Saegusa
Yuma Terada
Kat Samick

Cast:
Brad Pitt
Joey King
Aaron Taylor-Johnson
Brian Tyree Henry
Andrew Koji
Hiroyuki Sanada
Michael Shannon
Benito A Martínez Ocasio
and Sandra Bullock

---