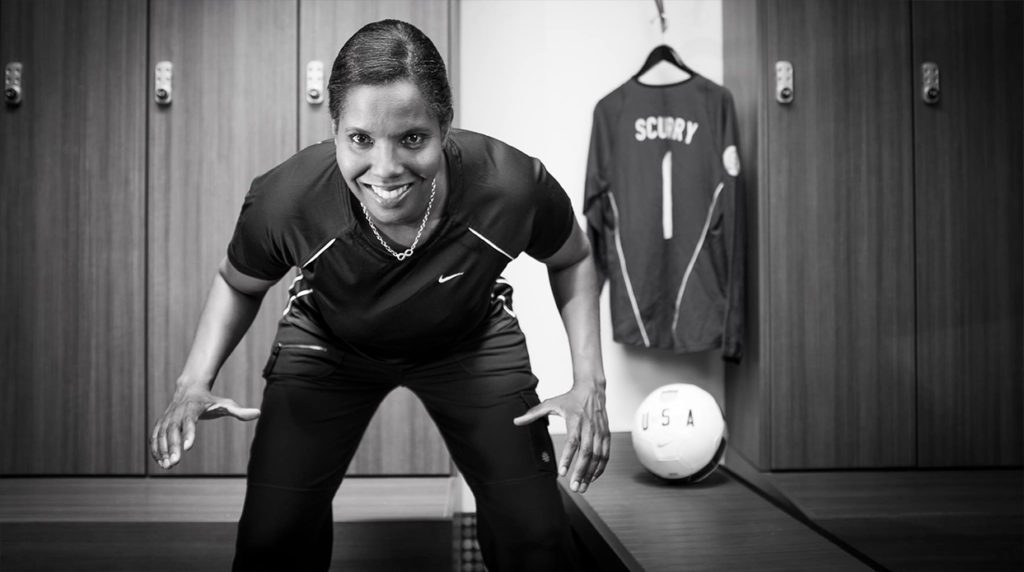 Our congrats go out to Briana Scurry, who has been elected to the National Soccer Hall of Fame Class of 2017, making her the first African American elected to the prestigious honor. Selected on the Player Ballot system, details about the induction ceremony will be released at a later date.
Growing up playing soccer in Minnesota, as the youngest of nine Scurry, is one of the most talented, influential and successful goalkeepers in U.S. Women's National Team history. She played every minute in goal for the USA at three Women's World Cups and two Olympic Games, suffering only two losses in those tournaments. She is perhaps best known for her phenomenal performance at the 1999 Women's World Cup where she made several world class saves in the semifinal victory against Brazil at Stanford Stadium in Palo Alto, Calif., setting the stage for one of the most historic matches in women's soccer history.
As one of the first African American and openly LGBT professional female soccer players, Briana Scurry has championed diversity and equality throughout her legendary career. The epitome of a team player with a palpable love of the game, Briana draws on her resiliency to advocate for equality, traumatic brain injury awareness, and the development of women's soccer. Briana channels her ability to overcome obstacles to provide insight on the importance of teamwork, motivation, focus, and strategies for leveraging personal strengths.
In a quote on Potomac Soccer Wire,  Scurry had this to say:
"It's a fantastic honor to be inducted to the Hall of Fame. I remember watching the Olympics on the couch with my parents at 8 years old, dreaming of becoming an Olympian myself. It was with their help – and that of my coaches, teammates, and countless others – that I was blessed to not only become an Olympian, but an Olympic and World Cup champion," Scurry said. "Soccer had already given me so much more than I could possibly give back. Now, to be inducted alongside the likes of Michelle Akers, Mia Hamm, and Kristine Lilly – I am truly humbled. And though my mother and father have passed, I can feel their pride swell. Thank you for letting me play for you, and thank you all for this incredible honor."

Photo courtesy of Facebook