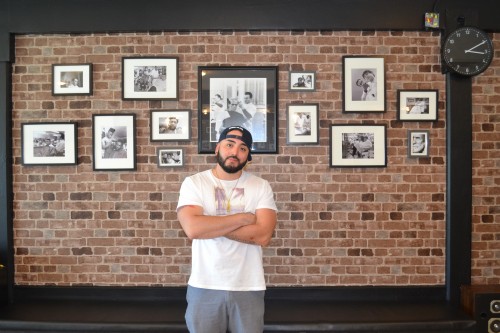 Christian (AKA Colombo Roc) and Trista Cardona, owners of The Hair Social are excited to bring New York's urban style barber & beauty shop to San Diego's college area.
The Inspiration behind the couple's decision to go with a New York style decor, came about while visiting family members who live in the city.  During their many visits, they would spend time checking out shops in the area and taking mental notes on the city's rich salon and barbershop culture.  Inspired by what they saw and how good it felt, they both agreed that incorporating an east coast vibe is something that the West coast will appreciate.
With that in mind, the couple went to work on creating a similar style for their shop.
Located in the front of the shop you will discover an urban chic decor that has a brownstone feel, creating a New York State of mind except, in sunny San Diego. The walls are covered in brick, filled with nostalgic photo's of barbers cutting the hair of high profile clients.
FYI: Make sure that you're on your pop culture peas and cues because, Colombo Roc likes to quiz.  Get ready to play #namethatcelebrity.
In the back end of the shop you will find Trista's hair salon, specializing in all hair types and styles including: Hair extensions, weaves and natural.
When asked the question: What's the key to success at running a family business, both master stylists who have been in the hair business for over a decade, agree that communication is key.
"Along with having good communication, it's important to know each others strength's," says Trista.
On the one hand, Trista's calm demeanor and strong solid business sense is just the right mix for the operation of the business, which she does with great ease. All things considered, she recently gave birth to the couples adorable first child.
On the other hand, Columbo Roc, the more outspoken of the two is a master at marketing and branding.
His popularity as a result of his candidness, has opened the doors to gaining many of the personal barbers clients including, a large clientele of popular local DJ's.  He says with pride, "I like making people look good. My slogan is, I change lives."
As for deciding on the shop's name, the Cardona's agreed that they both love hair and that they're both social which is how they came up with The Hair Social.
"We're excited to grow our business and serve the people of the community in a hip cool and comfortable space," says Trista.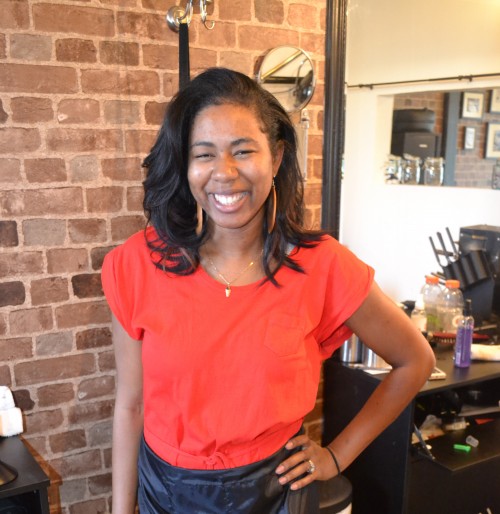 The Hair Social is offering specials for all first time clients:
$5 off all men's haircuts
$15 off any women's haircare services priced at $60.00 or more
$145.00 for partial weave installments.
The new business will hold a grand opening on Saturday, May 10 at 6 PM.
Located at 6820 El Cajon Blvd, The Hair Social is open Tuesday through Saturday.  For appointments call (619) 303-9670 or 619-885-7724.
Follow on twitter, facebook and instagram @TheHairSocial