Via Press Release —Sacramento, CA – The start of the legislative year begins with the addition of the newest member to the California State Assembly, Dr. Shirley Nash Weber. Assemblywoman Weber (D-San Diego) was sworn in on December 3, 2012 at noon inside the Assembly chambers at the California State Capitol in the company of relatives and close friends.  Dr. Weber, a professor and department chair at San Diego State University, has a record of creating jobs and serving the community that stretches back over her 30 years as a resident of the district.
"As the new Assemblymember for the 79th District, I realize that the voters have placed a tremendous trust in me," said Dr. Weber. "There is much work to do specifically in the areas of job creation, education, and investment in infrastructure projects that will put folks back to work. I look forward to working with my colleagues on both sides of the aisle to do the good work for the people of the 79th District and for California."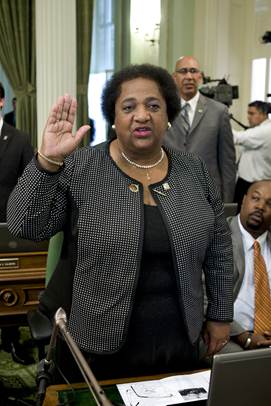 Dr. Weber will also have a separate Community Swearing-In Ceremony on Saturday, December 8th, 2012 at the Bayview Baptist Church, Martin Luther King Jr. Center, 6134 Benson Avenue in San Diego from 3pm to 5pm.  The public is invited to attend this event. To RSVP or for more information contact Kaamal Martin at (619)279-8154.
Assemblywoman Weber, is the first African –American to be elected to office South of Los Angeles.
Assemblymember Weber defeated Republican Mary England by capturing a whopping 60.27 percent of the votes and will take over the seat vacated by State Senator Marty Block representing the 79th District which includes portions of San Diego, La Mesa, Lemon Grove, Bonita, National City, and Chula Vista.