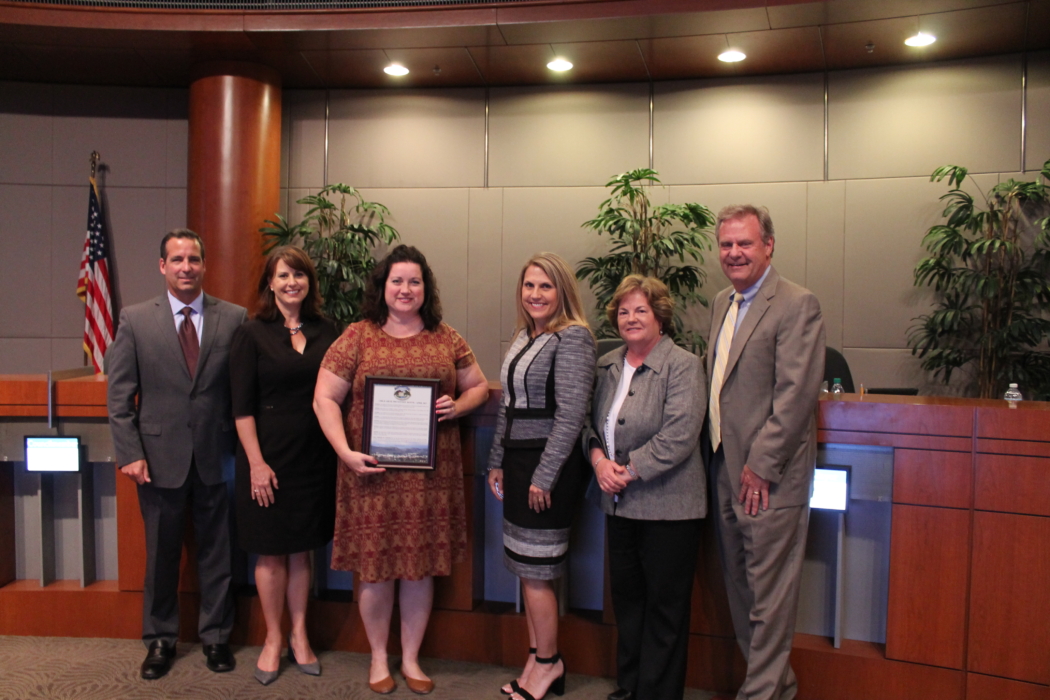 The San Marcos City Council awarded a city proclamation to Katherine Karpe, Director of Development for Casa de Amparo, at their city council meeting on April 26, 2017,  in honor of National Child Abuse Prevention Month.
The proclamation was given out to acknowledge Casa de Amparo for being the leader in North San Diego County in the prevention of child abuse and neglect. April marks the month that National Child Abuse Prevention is observed and the timing of the proclamation was to draw awareness to the national effort.  Katherine Karpè stated, "We are pleased that the City Council of San Marcos is aiding in the awareness of this national effort. Awareness is one of the best defenses we have in the battle of child abuse and events like this help in the understanding and prevention of child abuse."
About Casa de Amparo:
Established in 1978, Casa de Amparo (Home of Protection) is recognized as a leader in treating and preventing child abuse and neglect in San Diego County and beyond, with locations in Oceanside and San Marcos. The non–profit organization annually serves over 1,000 Casa Kids, from prenatal to 25 years old, as well as 900 families, through integrated trauma-informed programs that promote healing, growth, and healthy relationships. These programs include Residential Services, Counseling Services, Family Visitation, Child Development Center, New Directions, and Young Parent Network.
About The City Of San Marcos:
Located in the beautiful foothills of northern San Diego County is San Marcos, a progressive community of more than 90,000 residents who enjoy a fantastic quality of life. From miles of trails in the local hills, to unique dining and shopping opportunities in its retail centers, San Marcos has all the ingredients that make living enjoyable. Known as North County's education hub, San Marcos is home to Palomar College and California State University San Marcos and serves more students than any other city in San Diego County. Additionally, San Marcos works diligently to maintain its low crime rate, historically having one of the largest sheriff's contracts in the county. It also has some of the best fire emergency response times around. A dedication to parks and community services is another priority for the City of San Marcos. In addition to its rich recreational and cultural programs for children, teens, adults and seniors, the City has constructed 60 miles of trails, 29 new parks and 11 recreation centers over the past 25 years.